Briggs and Stratton P3000 Review – Get Price Alert
During Briggs and Stratton P3000 Review, we compare this with other brand generators, including A-iPower SUA2000i, Honda EU3000is1an, and WEN 56203i. Hope this review helps you to make a better decision.
The B&G P3000 inverter generator delivers up to 3000 watts of power, making it an excellent choice for home use. To sum up, the B&G P3000 is a small perfect emergency generator. It's perfect for:
Tailgaters and campers who want to be able to use their power wherever they go.
Handicrafters who want to work while on the road.
Enough power to start a standard RV air conditioner
6 things you should know about this Generator:
Starting 3K Watts, Running 2.6K Watts
Recoil starter and LCD Display
Noise Level – 85 Decibels
Tank Capacity – Gasoline – 1.5gal (5.6L)
Over 10 hrs at 25% load
Weight – 85 pounds
---
Briggs and Stratton P3000 Review were posted on – June 17, 2022. Last Updated – 4th June 2022
Expert Review Score – 4.35 Out of 5
User review on Amazon – 4.20 Out of 5 by 250+ Customers.
Electric generators are probably the best option if you are looking for an excellent portable power generating source. These electricity-generating sources are the go-to options for dispensable power whenever you require them. You may wonder about the best possible ones.
Here we have one of the best power equipment in the market. This inverter generator stands out due to its exceptional technological features. You can go through this review to get a sense of its characteristics. Hopefully, that will help you assess its use concerning your needs. 
Briggs and Stratton P3000 Features
Are you looking to go camping this summer? If you are, the first thing on your list should be a portable power supply. Briggs & Stratton has been the pioneer of durable power equipment for over 100 years. This is why you will be incredibly impressed with their intelligent inverter generator series. This one is set to power all of your upcoming adventures. The performance metrics are exceptional.
Moreover, you will receive their evaluation much easier with the intuitive StatStation LCD. This visual performance display was one factor that made this power equipment stand out. You may not realize its importance from the get-go. But as you connect the power to your devices, the essential performance stats and maintenance reminders will impress you.
Effective Noise Reduction
The company has spent considerable effort shaping the power equipment. Quiet Power Technology, for one, is worth considering. Primarily if you are operating in a busy area, you do not want to disturb your neighbours. The engine speed adjusts in such a way to reduce not only noise but also consume less fuel.
This allows this portable inverter generator to run for a more extended period. You can compare this with a normal conversation that proves to be louder than this power device. With a 25% load, it operates at only 58 decibels, which is extraordinary.
Outstanding Portability Ensured
The portability of the inverter generator is another predominant factor. On this, the entire sales pitch is based around. You will find that this piece of equipment has incorporated several features to support this claim. It has a luggage-style telescoping handle, which allows you to move it around conveniently.
Not only that, the 6-inch solid wheels have durability. You can now easily drag it around varying terrains. Whether it is your campsite or your backyard, an inverter generator can easily be set up wherever you require it. The 10 hours run time supports 25% of the load. While it's evident that this will also depend on fuel efficiency, the device itself is pretty efficient.
Paving the Way for Maximum Power Generation
It can be tough to keep track of fuel and run time manually. This is why the performance stat LCD proves to be such a boon. It keeps track of the time and fuel and monitors the spark plug changes. This is indeed an impressive feat for any power equipment. The fact that it can ensure safe and stable power generation makes it stand out.
The extent to which they have taken this into account is quite evident. You can get an idea of this series of inverter generators' parallel capabilities. You can connect two PowerSmart Series inverter generators to pull more power is a characteristic feature.
This way, you get more power output without sacrificing a household outlet. This power equipment maintains the safety of your household devices. You won't have to fear losing either one due to an unstable power load.
Briggs and Stratton P3000 Pros
Reduced noise
Easy to transport
Visual display of performance stats
Parallel capabilities
Lightweight
Briggs and Stratton P3000 Cons
Adjustment of choke required after each session

Fuel capacity varies due to air influx in the engine
One drawback that stands out in this generator is the constant need for manual adjustment. You have to keep track of the screw cover to adjust the choke. It restricts the airflow into the engine. The fact of the matter is that there needs to be a lesser amount of fuel concerning air.
Once the temperature is up, you need to turn off the choke or risk damage to the engine. You do not want your engine to run rough. I found this to be an inconvenience every other time I operated this device.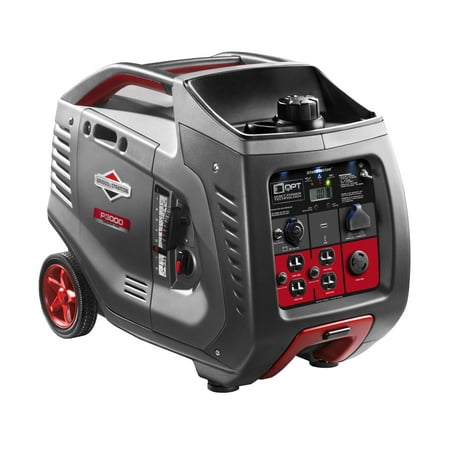 Briggs & Stratton P3000 PowerSmart Series Inverter Generator
★★★★★
$1,399.99
$1,199.00 out of stock
as of June 3, 2023 7:56 pm
B&G
P3000
Portable Generator Price History
Briggs & Stratton P3000 Inverter Generator, Briggs and Stratton Power Products
Price History
Briggs and Stratton P3000 Review Conclusion
You may be at odds while deciding which generator to choose. Going through this article will help you assess the best characteristic features. You can thus make an assessment based on your power requirements. Today, the market for portable generators is flourishing. They are the ideal choice for remote power generation.
So, whether you are looking to go hiking up a mountain or camping on remote terrains, these inverter generators are for you. Their portability makes carrying them around a whole lot easier. The compact design is well-suited for travel packing. Not only that, but you can also get them to dispense immense power whenever or wherever you may require it. Buy from Amazon