Briggs and Stratton P2200 Inverter Generator Review
Before starting this Briggs and Stratton P2200 Inverter Generator review we test a few other inverters as well. Including Westinghouse WH2200iXLT, Generac 7117 Gp2200I, and Pulsar G2319N
The P2200 from Briggs and Stratton's Power Smart Series is an inverter generator paired with the in-house developed Quiet Power Technology and parallel capability. The Briggs and Stratton P2200 is an inverter generator, which refers to its ability to throttle its engine. This allows it to consume less fuel making its operating cost economical for the average user.
6 things you should know about this Generator:
Starting 2200 Watts, Running 1800 Watts
Recoil Pull Start start-up
Noise Level – 59 Decibels at 22 foot
Tank Capacity – Gasoline 1 Gallon
Over 8 hours at 25% load
Weight – 55 pounds
---
Briggs and Stratton P2200 Inverter Generator Review were posted on – April 27, 2021. Last Updated – Jul 7th, 2022
Expert Review Score – 4.60 Out of 5
The industry-changing Quiet Power Technology ensures that the generator produces little to no noise. This is especially in the case when it is operating at a relatively high load site. Following through, it will produce large amounts of power compared to its normal regular use. The included 111 cc engine produces a start of about 2200 watts.
For continuous running, the inverter generator produces a steady 1700 wattage power supply. It is readily available to use when required. Consumer electronics can be charged safely using this generator. This is possible because of its super-low tone muffler. It is set for regular usage and recoil for when the generator is started up.
The proprietary Quiet Power Technology guarantees lower than 3 % harmonic distortion. It allows for the safe charging of portable electronic devices. Moreover, you can use the onboard-provided USB and connection ports. Considering its operation time is up to 8 hours while running at 25 % load per gallon, its performance per dollar is excellent.
Moreover, this Briggs & Stratton P2200 Power Smart Series Inverter Generator includes:
One 12V-5A, DC Outlet along with a USB Adapter
Two 120V Household Outlets
One Parallel Port
Two years Limited Consumer Warranty
Find more info about this Briggs and Stratton P2200 Power Smart Series Inverter Generator in the Additional information's Specification section.
This remarkable feature is mostly due to inverter technology. It enables the generator to be more efficient and consume less fuel when less power is required.
This will help produce more power when the situation changes accordingly. The attached parallel connector port is the result of perfect integration between the generator and the load. You will get to set a connection between 2 units for more power.
The total decibels produced by the generator operating at 25 % load are about 59. Compared to a normal human conversation, which is as loud as 70 decibels, the inverter generator is quieter than many human discussions.
Considering the multiple features provided by this inverter generator, this generator qualifies as the best inverter generator. This is based on a comparison with others in the same price range.
Briggs and Stratton P2200 key Features:
Running Watts: 1700 Watts
Surge Watts: 2200 Watts
Runtime: 8 hours
Tank Size: 1 gallon
Noise level: 59 dB at 25 % load
How much power can we get, and How much time can this Generator run?
P2200 PowerSmart's 110cc Briggs & Stratton 4-stroke gasoline engine is the heart of the machine. A 120V output can offer an average of 1700W and a maximum of 2200W of power. It can also be connected to a similar or compatible unit for additional power through parallel (PowerSmart parallel kit(opens in a new tab) not supplied).
It is straightforward to start the inverter generator using a traditional pull-start. It has a maximum noise level of 59 dBA (less noisy than rainfall).
The P2200 PowerSmart's 1-gallon fuel capacity allows it to run for up to 8 hours (with a fuel usage of about 0.13 GPH).
The P2200 PowerSmart delivers a pure sine wave, resulting in a 3% Total Harmonic Disruption for delicate electronics (THD).
Portability of the Generator
As an inverter generator, the Briggs & Stratton P2200 PowerSmart offers an aesthetic benefit over open-frame models because of its compact size (L21xW12.5xH17.35 in.). The highlighted design is easy to use and great for recreational purposes in keeping with current trends.
The P2200 PowerSmart weighs just 54 lbs. It makes it easy to take with you. The P2200 PowerSmart's grip is further improved by including a handy triple handle, which makes it much easier to move around.
Features we like about this machine
Light indications will let you know if the generator is overloaded, running out of oil, or ready. The engine has Briggs & Stratton's Quiet Power Technology (QPTTM) to reduce noise, pollutants, and fuel consumption. Engine speed increases when electrical loads are attached and decreases when electrical loads are removed when the ON switch on the control panel is turned on.
Safety features like the low oil shut-off and overload protection (circuit breaker) keep you at ease while running the generator. The Briggs & Stratton P2200 PowerSmart also includes the following accessories: a twin-port USB adaptor, a tool kit, a funnel, and oil. Additionally, an approved storage cover can be purchased separately.
Warranty information
The Briggs & Stratton P2200 PowerSmart comes with a two-year warranty against defects in materials or artistry. There may be a limit to this guarantee, and it may not cover all generator components.
We recommend that you refer to your user manual for more information regarding Briggs & Stratton's warranty policy (opens in a new tab). You can also get in touch with their Customer Support department.
Briggs and Stratton P2200 Quick Setup Guide
Before starting the Briggs and Stratton P2200 you must know this. Hope this helpful guide can help you a lot.
Unpack the Generator
Set the carton on a rigid, flat surface.
Remove everything from the carton except the generator
Open the carton completely by cutting each corner from top to bottom.
Add Engine Oil and Fuel
Move generator outdoors to a flat, level surface.
Loosen the two maintenance cover screws and remove the side maintenance cover.
Clean area around oil fills and remove yellow oil fill cap.
Using an oil funnel, slowly pour the contents of a provided bottle of engine oil into the oil fill opening to the point of overflowing at the oil fill cap.
Replace the oil fill cap and fully tighten.
Replace the maintenance cover and hand tighten the two maintenance cover screws.
Clean the area around the fuel fill cap and remove the cap.
Slowly add unleaded fuel to the red fuel level indicator in the fuel tank. Be careful not to fill above the indicator. This allows adequate space for fuel expansion.
Install the fuel cap and let any spilt fuel evaporate before starting the engine.
The thing you must Notice
You must correctly fill the engine with oil before attempting to start the generator.
Do not use unapproved gasoline such as E15 and E85.
Do not mix oil in gasoline or modify the engine to run on alternate fuels
Move Generator to Safe Operating Location
Move the generator outside to a flat, level surface, in an area that will not accumulate deadly exhaust gas. Engine exhaust contains carbon monoxide, a poisonous gas that could kill you in minutes. You CAN NOT smell it, see it, or taste it. Operate ONLY outside far away from windows, doors, and vents. Install carbon monoxide alarms. DO NOT run this product inside homes or garages, even if using fans or opening doors and windows. Direct exhaust AWAY from windows, doors, and vents.
To reduce the risk of exhaust heat or exhaust gases igniting nearby combustible material, keep at least 5 feet (1.5 m) clearance on all sides of the generator, including overhead.
Start Generator
Before starting the Briggs and Stratton P2200 you must disconnect all electrical loads from the generator. Use the following start instructions.
Make sure the unit is on a level surface.
Turn the engine switch
Push choke lever to CHOKE position.
Grasp recoil handles and pulls slowly until slight resistance is felt. Then pull rapidly to start the engine.
If the engine starts proceed to the last step. If the engine fails to start, proceed to step 6.
Move choke lever to half choke position, and pull recoil handle twice. If the engine fails to start, repeat steps 3 thru 4.
Slowly move the choke lever to the RUN position. If the engine falters, move the choke lever to half the choke position until the engine runs smoothly, and then to the RUN position.
Plugin Items to be Powered
Make sure the green output indicator light comes on. It may take up to 3 seconds
Let engines stabilize and warm up for a few min after starting
Plugin and turn on the desired 120 V, Single shape, 60 Hz electrical loads
If you overload the generator, the red LED overload alarm light comes on and cuts power to the receptacles. The green output indicator light will also go off. You must turn off and
unplug all electrical loads, press the "Reset" button on the generator control panel and then plugin and restart electrical loads one at a time to continue in normal operating mode.
This 12-volt DC receptacle along with the USB adapter allows you to recharge any USB-powered device with a USB charging cable. This receptacle is protected by a push to reset the circuit breaker.
Shut Down Generator
Turn OFF and unplug all electrical loads from the generator panel receptacles. NEVER start or stop the engine with electrical devices plugged in and turned ON.
Let the engine run at no-load for several minutes to stabilize the internal temperatures of the engine and generator.
Move engine switch to the OFF position.
To prepare for storage, refer to Operator's Manual.
Briggs & Stratton 30651 P2200 Power Smart Series Inverter Generator, 2200W
out of stock
as of June 4, 2023 12:19 pm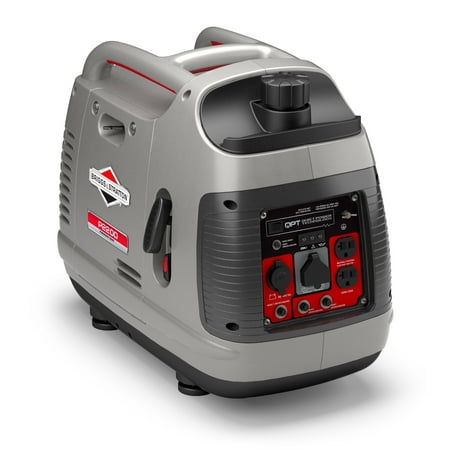 Briggs & Stratton P2200 PowerSmart Series Inverter Generator
$1,759.99


$

618.40
out of stock
as of June 4, 2023 12:19 pm
Briggs & Stratton 30651 P2200 Power Smart Series Inverter Generator, 2200W, Briggs and Stratton Power Products
Price History
Briggs and Stratton P2200 Inverter Generator review
Before starting this Briggs and Stratton P2200 Inverter Generator review we test a few other inverters as well. Including Westinghouse WH2200iXLT, Generac 7117 Gp2200I, and Pulsar G2319N
Even though the low power output is not that evident, it can be easy to find another inverter generator within the same price range. This does not allow the product to compete in the same plane field in the market. Consumers, however, won't be left disappointed with its features. Its efficient performance helps it stand out and be a worthy pick.
The fuel tank may be small, but it directly affects the portability of the generator itself. You can always opt for a bigger fuel tank if needed. It has been determined that gas efficiency greatly affects the fuel requirement too. So, if you were to choose a reputable fuel, you won't be held back from operating at a higher load capacity for longer times. Buy From Amazon