Champion 4500 Watt Generator Review
Before starting this Champion 4500 Watt Generator Review we test a few other inverters as well. Including Briggs & Stratton Q6500, Pulsar G450RN, and Westinghouse iGen4500.
Champion 4500 Watt Generator is a good generator if you need reliable power sources for e a few lights, fans, and internet Wifi powered up in the event of a power outage. This one is light and easy, and most importantly an inverter so as to have clean power for electronics and also dual fuel.
Champion's 4500-watt inverter generator is a quiet, safe, and solid machine. Champion Power Equipment offers a product line including home standby generators, inverter generators, motors, winches, log splitters, and various other accessories.
10 things you should know about this Generator:
Power: 3500 Watts / 4500 Watts
Engine: 212cc
Run-time: 14 Hours @ 25% Load
Noise Level: 61 dBA
Outlets: 1 – 120V 30A, 2 – 120V 20A, 12V 8A DC
Fuel Tank: 2.3 Gallons
Size: 23.2 x 17.7 x 20.1 Inches
Weight: 97 Pounds
Parallel Ready: Yes
Warranty: 3-Year
---
Champion 4500 Watt Generator Review ware posted on – October 12, 2021. Last Updated – July 13, 2022
Expert Review Score – 4.65 Out of 5
User review on Amazon – 4.60 Out of 5 – 4.6K+ Customers
Power: 3700 Watts / 4500 Watts
Engine: 306cc
Run-time: 16 Hours
Noise Level: 61 dBA
Outlets: 4 – 120V 20A, 1 – 120/240V Twist-Lock, 2 – USB Port
Fuel Tank: 5 Gallon
Size: 25.5 x 21.1 x 21.4 Inches
Weight: 111.8 Pounds
Parallel Ready: No
Warranty: 3-Year
User Rating: – 3.80 Out of 5 – 200+ Customers
Expert Score: – 3.90 Out of 5
Power: 3700/4500 Watts
Engine: 244cc
Run-time: 12 Hours
Noise Level: 64 dBA
Outlets: 1 – 120V 20A, 1 – 120V 30A, 1 – 12V 8A DC, 1 – USB outlets
Fuel Tank: 3.2 Gallons
Size: 27.5x21x23.5 In
Weight: 108 Pounds
Parallel Ready: Yes
Warranty: 2-Year
User Rating: – 4.00 Out of 5 to 1K+ Customers
Expert Score: 4.5 Out of 5
Power: 3700/4500 Watts
Engine: 224cc
Run-time: 15 Hours
Noise Level: 52 dBA
Outlets: 1 – 120V 30A, 2 – 120V 20A, 2 – 5VDC USB port
Fuel Tank: 3.4 Gallons
Size: 24.5×17.5×20 In
Weight: 93 Pounds
Parallel Ready: Yes
Warranty: 3-Year
User Rating: – 4.40 Out of 5 – 4.7K Customers
Expert Score: 4.5 Out of 5
Champion 4500 Watt Generator Reviews
Output wattage
The Champion 4500 Watt Generator comes with a 212cc Champion engine which has a running power of 3500 Watts and starting power of 4500 Watts respectively. This means the generator can handle a 3500 Watts load at all times, but when it needs an extra power boost, it ramps up to 4500 Watts for a shorter period.
Innovative Quiet technology
An inverter is mainly known for the silent operation of the motor. Likewise, the noise level of this generator is approximately 61 dBA at a distance of 23 feet. When the load changes, the noise level changes. In any case, the engine noise will not disturb the normal conversion between two people. Therefore, this generator is suitable for outdoor use as it will not cause a nuisance to the public.
Dimensions and Portability
When fully assembled, the Champion 200987 measures 23.2 x 17.7 x 20.1 inches, making it a more compact option for those who don't want to take up too much space with a portable generator.
The Champion 4500 Watt Generator weighs 97 pounds, which is lighter for portable generators of comparable power and size. However, it is still not a lightweight generator. Champion balances this volume with two wheels and a folding handle, making transportation easy and convenient.
Starting mechanism
Starting and stopping the engine is easy with EZ Smart Dial options. You can start the engine with manual recoil. Very importantly, this generator set is equipped with cold start technology to start the engine instantly.
If you are camping during the winter season, you will have no problem starting the generator. In addition, the Champion 4500 Watts generator comes with a key fob to start the generator remotely.
Tank Capacity and Runtime
The Champion Generator is gasoline-powered and runs on a 2.3-gallon fuel tank. This generator has a long run time, running for up to 14 hours at 25% load on a full tank of gas. As with any other portable generator, you should expect the average runtime to drop if you need to use a higher load to power multiple devices at the same time.
Control panel and power outlets
This generator comes with a built-in control panel. It contains all important operating switches and is easily accessible. There are a pair of 120V 20A outlets for connecting devices.
This inverter is suitable for RVs as it has a 120V 30A RV plug and has USB ports for charging the batteries. The highlight of the power panel is the intelligent display. Retrieves information about voltage, frequency, and operating time. Therefore, these real-time readings are helpful for the user in maintenance planning.
Parallel Capability
The Champion 4500 watt generator is designed with parallel capability, which means you can connect it to a similar or compatible 2800+ watt generator using the Champion parallel kit to produce even more power.
Maintenance and Certifications
No tools are required to operate this generator. Everything is available in one place (Control Panel). There is also an oil drain tube for proper oil filling without spilling. It is important to note that there are safety features such as a low oil level shut-off sensor that alerts the operator when the oil level is low. In addition, the fuel gauge shows the fuel level. This allows you to store gasoline and oil in advance. Champion's 4500W generator is eco-friendly and helps keep the atmosphere clean. It is CARB compliant and EPA approved.
Safety
The Champion 200987 Power Equipment 4500 Watt Generator is equipped with two circuit breakers to protect your generator from overload. It also shuts off automatically if the oil level gets too low.
Noise
Champion 4500 Watt Generator describes this 4500W inverter generator as "ultra-quiet" and it's no secret why. At 61 dBA from 23 feet, the Champion is as loud as normal conversation or background music. The owners have confirmed that this machine runs quietly, so you don't have to worry about staying up at night when camping.
If you need more quiet ones then Champion has an option for you. Though the power production capacity will be around 2KW. If that's okay with you then you should visit the Champion 2000 Watt Inverter Generator Reviews page,
Warranty and customer service
With too many impressive features, this generator comes at an affordable price. It comes with an extended three-year warranty. Additionally, Champion 4500 Watt Generator offers an excellent 24/7 technical support team.
Some important Documentation of Champion 200987 Generator:
Champion provides a User Manual, Start guide, and Parts information to all of their Inverter Generator user, Check out this link to get the pdf.
RV-ready portable generator and pros and cons
Yes, the champion 4500-watt portable inverter generator is another RV-ready. read the Pros and cons in the review section below.
Champion 4500 Watt Generator Reviews
4500 Watt Champion Inverter Generator provides plenty of power during power outages. While this generator comes with advanced features, the champion 4500-watt generator price is cheap. You can double the power output by connecting generators of the same size.
We found high customer ratings for this champion 4500 generator tractor supply and Amazon. It has a lot of happy users for its performance, durability, noise levels, and warranty. You can expect significant features like information and cold start technology from any other generator for the same price. You can see the champion 4500 Generator for sale at a lower price too.
In addition, its perfect design ensures low decibel levels to provide peace of mind to customers. While there is a three-year warranty, you can extend the life of your generator by scheduling proper maintenance. You can find the best deals on eCommerce websites.
Champion power equipment 4500watt Bad side
You may need to connect the device to a grounded 4+' copper ground rod.
Champion

200987 is not a

dual fuel portable inverter generator
Champion portable inverter generator FAQ and cons pros
How loud is a Champion 4500-watt generator?
This generator is relatively quiet in its class While operating we found it makes around 60-61 dBA from 25 feet distance. This is as loud as a normal conversation.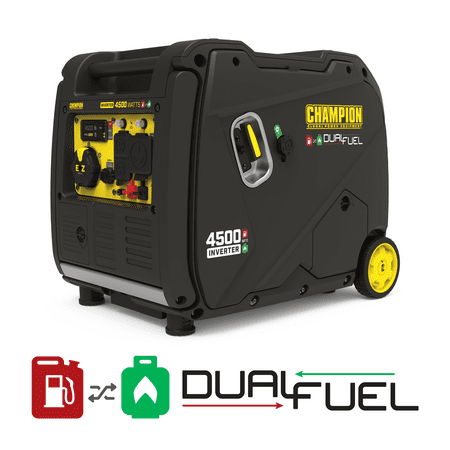 Champion 4500-Watt Portable Inverter Generator
★★★★★
$1,025.00 in stock
as of September 29, 2023 6:28 pm
Champion 4500 Watt
Portable
Generator Price History

Champion 4500-Watt Portable Inverter Generator, Champion Power Equipment
Price History
Statistics
| | | |
| --- | --- | --- |
| Current Price | $899.00 | September 29, 2023 |
| Highest Price | $975.73 | April 29, 2023 |
| Lowest Price | $746.50 | July 10, 2023 |
Since April 10, 2023
Last price changes
| | |
| --- | --- |
| $899.00 | August 4, 2023 |
| $901.80 | August 1, 2023 |
| $901.92 | July 30, 2023 |
| $900.00 | July 23, 2023 |
| $746.50 | July 10, 2023 |
Champion 4500 Watt Portable Generator Review Summary