Ford FG2300iS Review and Price History
When finding a portable generator that will meet your needs, you can go right with all models we've reviewed. To help you determine which 2300-watt inverter generator is worth your money, we've reviewed the well-designed Ford FG2300iS and compared it to the competition. To what extent are you interested in this generator because of its Ford affiliation or the positive feedback you've received regarding its performance? What's the matter? If you spend money on a generator, ensure you get something that will work when needed.
Who can use this Generator?
For the most part, the Ford FG2300iS portable inverter generator is designed for the following applications:
Tailgaters and campers who want to take their electricity with them wherever they go

DIYers looking to boost their tool efficiency
Sections to follow will cover the device's power characteristics, multiple outlets, portability, and any other features it may have, including information on its emission compliance.
Comparison Between Ford FG2300iS and Others
Power: 1800 Watts / 2300 Watts
Engine: 80cc
Run-time: 6 Hours
Noise Level: 59 dBA
Outlets: 2 – 120V 15A, 1 – 12V DC Outlet, 1 – 5V 1.5A USB
Fuel Tank: 1.18 gallon
Size: 19.7 x 11.22 x 17.91 Inches
Weight: 48 Pounds
Parallel Ready: Yes
Warranty: 1-Year
User Rating: – 4.70 Out of 5 – 150+ Customers
Expert Score: – 4.80 Out of 5
Power: 1700 Watts / 2200 watts
Engine: 80cc
Run-time: 11 Hours
Noise Level: 64 dBA
Outlets: 2 – 120V 14.1A Max, 12V DC 8A, 2 USB Port
Fuel Tank: 1.2 Gallons
Size: 19.7 x 11.4 x 17.9 Inches
Weight: 46 Pounds
Parallel Ready: Yes
Warranty: 2-Year
User Rating: – 4.60 Out of 5 – 3.9K Customers
Expert Score: – 4.70 Out of 5
Power: 1800 Watts / 2300 Watts
Engine: 80cc
Run-time: 6 Hours
Noise Level: 59 dBA
Outlets: 2 – 120V 13.5A, 1 – 1.5A USB Port
Fuel Tank: 1.18 Gallons
Size: 19.7 x 11.22 x 17.91 Inches
Weight: 47 Pounds
Parallel Ready: Yes
Warranty: 2-Year
User Rating: – 4.40 Out of 5 – 1K Customers
Expert Score: – 4.50 Out of 5
How much power can we get, and How much time can this Generator run?
The 80 ccs (3 hp) Ducar OHV 4-stroke engine in the Ford FG2300iS is powered by gasoline and included in the machine's construction. 120V output provides an average of 2000W of power and a maximum of 2300W. This power can be doubled by connecting it to another similar or suitable unit through parallel (parallel kit not provided).
It is possible to start the inverter generator using a pull-start method. It has a maximum noise level of 59 dB. (less noisy than rainfall).
A full tank of 1.18 gallons will allow the FG2300iS to run for almost six hours at 50% load. /. (fuel consumption around 0.2 GPH).
The FG2300iS has a 3% Total Harmonic Disruption (THD) that ensures that your sensitive equipment can be plugged into the AC outlets without worry.
Number of Outlets
There are two AC outlets on the control panel:
20 amps of 120 volts (5-20R)
A 12V 8A (cigarette lighter style) receptacle allows you to recharge your batteries quickly. At the same time, a 5V USB connector (USB-A) will enable you to charge electronics, such as mobile phones or tablets, quickly.
Portability of the Generator
This Ford FG2300iS inverter generator has a more aesthetically pleasing enclosure than an open-frame model. It measures L19.7 x W11.2 x H17.9 inches. The generator is stylish and modern, making it ideal for generating electricity for fun.
The FG2300iS billed as a lightweight, portable generator, weighs just 46.3 pounds. When traveling around, a single person should have no trouble with it. It's much easier to carry around with a built-in handle (molded into the casing).
Features we like about this machine.
Your oil level, the generator's overload, and readiness will all be indicated by visible indicator lights.
It has low oil shutdown and overload protection (circuit breaker) to keep you safe when using the generator.
Additional accessories, such as a tool kit, are included with the Ford FG2300iS, making it easy to get the generator up and running.
Warranty information
The Ford FG2300iS comes with a two-year warranty. This guarantee may not cover all generator parts.
Please contact Ford Customer Service if you have any questions about the warranty on Ford generators.
Ford FG2300iS comparison with other
We hope these will show you how the Ford FG2300iS compares to other generators of similar power (between 1500 and 2500 W).
FG2300iS is one of the lightest generators in its class, weighing only 46.3 pounds and capable of delivering 1,500 to 2,505 peak power watts (peak). The 200949 Champion, who weighs 38.6 pounds, is a champion in this power class if weight is your primary concern.

This inverter generator, with the lowest noise output of 59 dBA among generators of equivalent operational power, can be deemed noisy. The Honda EU2200i is one of the quieter generators of equal strength, rated at 48 dBA if noise emission is essential to you.

While the FG2300iS can run for up to six hours on a full tank of gas at 50% load, it is on the low end compared to other generators with similar power outputs. The Westinghouse WGen2000, a comparable power product, has a run time of roughly 20 hours for autonomy.

As crucial as run times are, they heavily depend on fuel capacity. Considering the generator's fuel usage is necessary for a healthy image. If we compare it to the other inverter generators in the wattage mentioned above range, its estimated capacity at 50% load is 0.2 GPH (gallons per hour). Check out Westinghouse's iGen2200, which has a fuel economy of just 0.11 GPH and is consequently one of the most efficient devices in our database.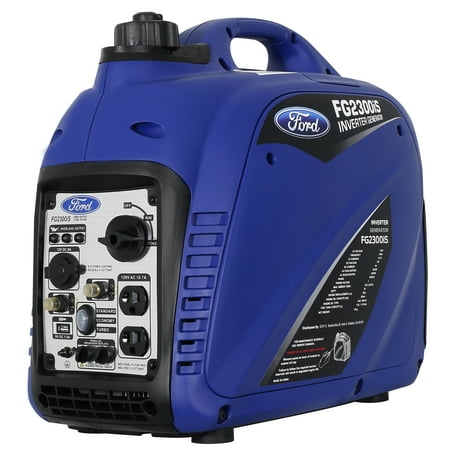 Ford 2300W Portable Inverter Generator
★★★★★
$869.95
$439.99 in stock
as of June 4, 2023 6:45 am
Ford FG2300iS Portable Generator Price History

Ford FG2300iS 2300W Silent Series Inverter Generator, Blue, Ford
Price History
Statistics
| | | |
| --- | --- | --- |
| Current Price | $439.99 | June 4, 2023 |
| Highest Price | $439.99 | April 11, 2023 |
| Lowest Price | $439.99 | April 11, 2023 |
Since April 11, 2023
Ford FG2300iS Review Summary