Generac 6998 Generator Review
Welcome to Generac 6998 Generator Review. The new Generac 6998 7.5 kW PowerPactTM Home Standby Generator delivers the same quality and affordability that homeowners and sellers have come to expect from Generac.
As a residential standby generator, it offers features similar to the popular Guardian series. Generac's powerful and reliable OHV engine powers the 6998. It measures 36″ long, 27″ wide, and 25″ high, weighs approximately 208 pounds and is rated at 7500 LP watts and 6000 NG watts.
The 6998 standby generator automatically supplies enough backup power for your home while protecting your home's 8 circuits via a lightweight, indoor-rated, 50 A, NEMA 1 automatic transfer switch.
It's a quiet unit that operates at 69 decibels. And comply with any noise standards in the area. It's also a powerful system that powers your most important home and family appliances during a power outage.
Thanks to the automatic transfer switch, refueling, or cables, it does this without manual adjustment. In addition, the Generac 6998 7.5/6 kW PowerPactTM air-cooled standby generator for the home also provides smooth, clean power for your most delicate devices;
True PowerTM technology reduces harmonic distortion to less than 5%. This means significantly cleaner power quality, which means the electricity is safe for sensitive devices.
High-tech features make the Generac 6998 more than your average generator. With a Mobile LinkTM remote monitor, available separately, you can keep an eye on your device from anywhere in the world. As long as you can get wireless service, you can access your generator information.
This access to information includes operations, requests for services and subscriptions, and much more on your smartphone, laptop, tablet, and any other computer or smart mobile device.
While you are away, rest assured that your generator is safe; steel housing and powder coating protect the unit against corrosion and weather influences. Storm or no storm, your unit will survive.
Generac 6998 Features:
The lightweight 50 amp NEMA 1 Indoor Only Automatic Transfer Switch provides 8-circuit automatic power from this standby generator to your home.
The 6998 is powered by Generac's OHV engine, a staple in Generac power and reliability.
Full 7500 Watt LP and 6000 Watt NG.
It operates at 69 decibels, making it a quiet power solution for homeowners.
True Power TM Technology in this model means harmonic distortion is reduced to less than 5%. This equates to cleaner power quality for sensitive devices and appliances.
Residential standby generators need to be durable, and the steel housing and powder coating are essential to help this model withstand the elements.
The 6998 comes with a 3-year limited warranty.
Generac prides itself on customer service and offers customer support 24 hours a day, 7 days a week, all year round.
Generac generators and their engines are built in the USA.
Affordable, Automatic 24/7 Backup Power:
With Generac PowerPact, you can enjoy peace of mind knowing that your home and family are protected 24/7 from the dangers of power outages. Cover only the essential electrical items with the cheapest automatic backup generator available on the market.
True Power™ Technology: Best-in-class power quality with less than 5% total harmonic distortion means the clean, trouble-free operation of your sensitive electronics and devices.
Generac OHV Engine: Generac's OHV engine is designed for reliability and long-lasting operation.
Digital Controller: Digital controller with status and fault LEDs.
Certified for 18″ Installation to the Home: Third-party certified to NFPA standards for installation up to 18″ from the home's exterior wall, provided it is away from doors, windows, and fresh air intakes, and unless otherwise required by local codes.
Easy Accessibility: Three of the four sides can be easily removed for easier access to service and maintenance.
All-Weather Steel Enclosure: Our durable powder coating makes the robust galvanized steel housing perfect for all weather conditions.
Mobile Link™ Compatible:: Take advantage of Generac's Mobile Link mobile remote monitoring system and check the status of your generator with your computer, tablet, or smartphone, even when you are away. Sold separately. Non-cellular remote monitoring options are also available to monitor the generator from home.
Customer support 24/7/365: Power outages do not always occur during normal business hours. That's why Generac's customer service call center, here in Wisconsin, offers assistance any time of the day or night, year-round. Generac is available 24 hours a day, 7 days a week, every minute of every day to answer your questions.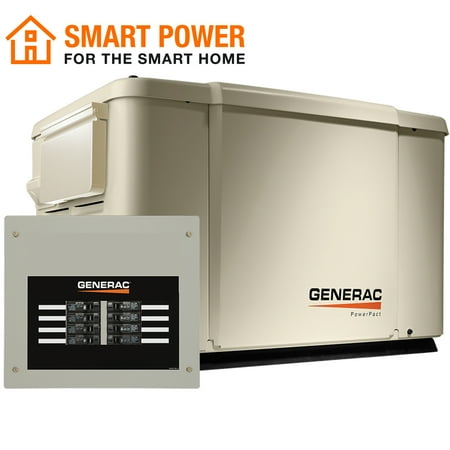 Generac 6998 - PowerPact 7.5/6 kW Air-Cooled Standby Generator
$2,049.00
$1,999.00 out of stock
as of October 4, 2022 8:28 pm
Generac 6998 Portable Generator Price History

Generac 6998 Generator with 8 Circuit 50 Amp Transfer Switch, Generac Guardian
Price History
Statistics
| | | |
| --- | --- | --- |
| Current Price | $2,991.99 | October 4, 2022 |
| Highest Price | $3,088.44 | August 19, 2022 |
| Lowest Price | $2,556.07 | July 20, 2022 |
Since July 17, 2022
Last price changes
| | |
| --- | --- |
| $2,991.99 | October 4, 2022 |
| $2,992.99 | September 24, 2022 |
| $2,998.99 | September 15, 2022 |
| $3,068.94 | September 6, 2022 |
| $3,068.96 | September 3, 2022 |
Generac 6998 Generator Review Summary
People who help us to review Generac 6998 Generator
Alex Grint
This is Alex Behind this Best Generator Review. I have completed my Diploma in Electrical & Advanced Electrical from Apex Technical School, NYC. The School curriculum covers an introduction to the National Electric Code and includes an emphasis on electrical safety, breakers and fuses, blueprints, grounding, outlets, splicing, and bonding. Besides my job, I like to spend my time testing and playing with different electrical devices. Generators are one of my favorite machines.
Read more on this topic