Generac 7127 iQ3500 Portable Inverter Generator
We bought this Generac 7127 iQ3500 Portable Inverter Generator. This is a very good little generator, super quiet, with good solid power. We bought this generator in spring to have it for boating and hurricane season. This unit was big enough to power the essentials in the house and small enough to bring on my boat for overnight trips. Living on the Jersey Shore, we frequently lose power, sometimes for extended periods. During the last storm, we lost power for a day. I broke out the Generac, and it started the first pull.
Looking for a powerful, quiet, and efficient portable generator? Inverter technology in generators has helped significantly reduce the noise these machines produce. Numerous generators on the market today offer top performance and quiet operation. Generators like the Generac 7127 iQ3500 are so quiet that you can take them to the campsite or use them at home without disturbing your neighbors. Read our review of the Generac iQ3500 portable generator to see if it has what you're looking for.
Comparison Between Generac 7127 iQ3500 and Others
Power: 3100 Watts / 3400 Watts
Engine: 192cc
Run-time: 7.5 Hours (Gas), Up to 14.5 Hours (Propane)
Noise Level: 59 dBA
Outlets: 2 – 120V 20A, 120V 30A RV, 12V DC outlet with dual USB Adapter
Fuel Tank: 1.6 Gallons
Size: 25.1 x 17.3 x 18.3 Inches
Weight: 95.7 Pounds
Parallel Ready: Yes
Warranty: 3-Year
User Rating: – 4.70 Out of 5 – 1.9K Customers
Expert Score: – 4.80 Out of 5
Power: 2800 Watts / 3100 Watts
Engine: 212cc
Run-time: 7.5 Hours
Noise Level: 57 dBA
Outlets: 2 – 120V 20A, 1 – 120V 30A RV, 1 – 12V 8A DC, 2 – 5V USB Port
Fuel Tank: 1.85 Gallon
Fuel Consumption: 0.25 GPH
Size: 23 x 16.5 x 19.5 Inches
Weight: 81.4 Pounds
Parallel Ready: Yes
Warranty: 2-Year
User Rating: – 4.20 Out of 5 to 40+ Customers
Expert Score: – 4.30 Out of 5
Power: 3000 Watts / 3500 Watts
Engine: 212cc
Run-time: 14.1 Hours
Noise Level: 65 dBA
Outlets: 1 – Duplex 120V 20A, 1 – 120V 30A, and 2 – 5V USB Port
Fuel Tank: 2.6 Gallons
Size: 19.7 x 16.5 x 16.4 Inches
Weight: 74.3 Pounds
Parallel Ready: Yes
Warranty: 3-Year
User Rating: – 4.70 Out of 5 – 250+ Customers
Expert Score: – 4.70 Out of 5
Generac 7127 iQ3500 Portable Inverter Generator review
The Generac 7127 iQ3500 has great features, such as being 40% quieter than its closest competitor, the Honda portable inverter generator. Ultra-quiet operation is made possible by a housing design that offers optimum quiet performance. And that's not all. The Generac 7127 iQ3500 is also 16% more powerful than the Honda. This is thanks to the revolutionary Power Rush technology.
These great features make this portable generator ideal for both work and play. It comes with a sturdy steel case that is sturdy and durable. This generator can be easily used at work or recreational locations.
Design of
Generac 7127 iQ3500
The first thing I noticed when unpacking the Generac IQ3500 was that the device was completely encased in a steel case. The overall design of this device looks and feels sturdy. It also looks good. Working in many job sites in my past life, I was used to running wide-open frame generators so loud that we spent several hours building a fence around them. Immediate, persistent noise elsewhere so we don't all get a headache from noise at the end of the day. Thinking about those days makes me happy. Now I'm sitting at a desk, haha. When I opened the metal case, I noticed it was also insulated for noise reduction. We'll get to the noise levels later.
The IQ3500 has a dry weight of 109 pounds. It's neither light nor heavy compared to other generators in its class. The IQ3500 comes with two handles on each side on the top. I'm used to wheeled generators that can be moved around a job site or camping. I'm not weak (discussion, yes), but I certainly don't exercise. I could lift and move the unit, but any type of long-distance transportation and would prefer a friend's help. Due to its size and weight, it isn't easy to move. The 2.6-gallon fuel tank gives the iq3500 a good run time of 8.9 hours. We ran it for 6 hours with two refrigerators drawing power without running out of fuel.
The IQ3500 control panel is well-designed and easy to operate. Do you want to run the generator? Spin the large orange dial to run, or you'll choke and walk away if you haven't run. Pull the starter rope or push the red starter button.
Generac iq3500 It's so easy even my two-year-old did it by accident. She was scared and backed away quickly. I was hoping you could keep your eyes off it for five seconds, I'm telling you… The IQ3500 has two 20 amp 5-20R outlets, 2 USBs, 1 30 amp L5-30R outlet, and a 25 amp socket connecting two Generac in parallel for power outputs. The LCD screen is nice; you can scroll through power, estimated run time, engine hour meter, and fuel level. While it is nice, it has a fuel gauge; it is not easy to find or see. Looking at the Generac iq2000, that unit has bright green LED lights in the shape of a dial to indicate the fuel level. This is easy to see from a distance or indoors, which is great fun. I wish Generac had made this a standard feature across the IQ line.
Setup Process:
The IQ3500 is almost ready for use. Open the front access panel and connect the wiring to the battery. Open the side panel and fill the motor with the supplied 10W-30 oil using the supplied filler funnel. Fill it up with gasoline, and that's it. Fire it up! It was interesting to find that sufficient fuel can contain up to 10% ethanol. This means that you can use a normal fuel pump. I expected to use engineered fuel or no ethanol. So I have no complaints about this man's deception.
Operation of the generator:
Starting the IQ3500 is easy. Two options pull the recoil cable, which does not require much effort. Or press the electric start button. Very cool. Now Busted Wallet has reviewed another generator with remote starting. It's a pretty handy feature that would come in handy if you have your IQ3500 in a long-term location. This is advertised as one of the quietest generators on the market. It is even 40% quieter than a Honda. That's how it is? The first time I pulled the starter rope, I laughed. "Does it work?!" This thing is so quiet I can't get over it. You can even activate the eco mode, which lowers the engine and becomes quieter. I could argue with someone while this thing walked between us without raising my voice. This generator is much quieter than any generator I've ever seen. Perfect for any safe camping or tailgate. This thing spins, and you barely notice it.
Power:
The IQ3500 has two 5-20R 20 amp sockets, 2 USB plugs, 1 L5-30R 30 amp socket, and a 25 amp socket for paralleling two Generac sockets. As an inverter generator, you also get some nice clean power. The iq3500 also features Powerrush technology which gives the unit 50% more starting power to jump-start your equipment. Coincidentally, when I unpacked the IQ3500 to check it out, we lost power in our house and were told it was Generac. I turned on two fridges/freezers, two lights, a TV, and our cable box (the Michigan State game was on) without any problems. It's not a maximum load, but a good first test. I also put two hairdryers on full blast at once, close to full charge. I also simultaneously plugged in my 3 HP air compressor, circular saw, and 10″ miter saw. When I accidentally started the generator with the compressor plugged in and running, I turned off the generator circuit. The unit handled everything very well. This generator would power any typical scenario.
This is late February in Michigan. It was cold, and we needed warmth. I thought about going to the hardware store and buying a flexible electrical cable to connect the generator to our furnace. I plugged everything in, plugged it in, turned on the oven, and boom… I'm the hero. Then the oven went out. After several attempts and conversations with Generac, this device is not made to power an oven or electronic equipment. I checked that the generator had sufficient capacity to power the furnace. The maximum consumption appears in my oven at 9.6 amps. So we spent one cold night at home and the next at the in-laws. Generac says the IQ3500 is designed more for job sites, tail lifts, and camping. I read that Generac whole house generators have a biased stator that is supposed to provide a smooth output for electronic equipment.
Fuel Consumption and Safety Features
With a 2.6-gallon fuel tank, the Generac iQ3500 can run for a long time without refueling. This means you rarely have to take extra fuel with you to work/camping.
In addition, you never have to manually open the fuel tank to check if it is empty. This generator has a digital display that shows the fuel level in the tank at any time. The screen warns you when your fuel is running low and gives an estimate of the run time remaining so you can plan if necessary.
Runs on Gas
Regarding safety, you must never leave unused fuel near the generator while running. It would help if you watched for fuel leaks or spills, as they can cause a fire. It is not recommended to use this generator indoors. All generators, including inverter generators, should always be operated in well-ventilated areas to avoid the build-up of carbon monoxide gasses.
Generac 7127 iQ3500 Portable Inverter Generator Final Words
Overall, the Generac 7127 iQ3500 (available on Amazon) is an amazing portable generator with many great features, such as advanced inverter technology, compact design, quiet operation, durable housing, easy installation, low fuel consumption, and high power output. Capacity. This generator is also quite affordable compared to some more expensive models. Overall, Generac's inverter generator has a lot to offer with very few drawbacks.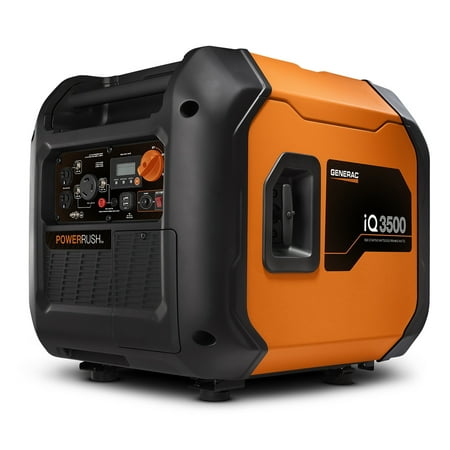 Generac iQ3500 - 3500 Watt Portable Inverter Generator
★★★★★
$1,299.00
$999.00 in stock
as of August 27, 2023 6:57 am
Generac 7127 iQ3500 Portable Generator Price History

Generac 7127 iQ3500-3500 Watt Portable Inverter Generator, Generac
Price History
Statistics
| | | |
| --- | --- | --- |
| Current Price | $1,199.00 | August 27, 2023 |
| Highest Price | $1,285.06 | July 24, 2023 |
| Lowest Price | $899.10 | June 25, 2023 |
Since April 4, 2023
Last price changes
| | |
| --- | --- |
| $1,199.00 | July 31, 2023 |
| $1,285.06 | July 24, 2023 |
| $1,199.99 | July 18, 2023 |
| $899.10 | June 25, 2023 |
| $999.00 | May 3, 2023 |
Generac 7127 iQ3500 Review Summary