The Generac GP3300i inverter with advanced new PowerRush technology provides over 50% more starting capacity for your RV and other motor-driven equipment so that you can do more with less. Convenient RV outlets for easy plug-in, quiet inverter power, perfect for outdoor activities in a compact, lightweight solution.
In short, the Generac GP3300i is a compact and lightweight, portable inverter generator that is especially suitable for:
Camping enthusiasts and hobbyists looking to enhance their experience

Craft enthusiasts who want to work on the go

Homeowners want to be sure of their ability to power their refrigerators, cookware, heating, and lighting equipment during a power outage.

RV travelers looking for even more independence
The following sections discuss the device's power characteristics, availability of multiple outlets, portability, and additional features, including information about emissions compliance.
Generac GP3300i Power and run time
 The Generac GP3300i's 149cc Generac OHV 4-stroke petrol engine can supply 120V. It delivers an operating power of 2500 W and reaches a maximum power of 3300 W. In addition, the device is parallel compatible (parallel kit (opens in a new tab) not included) and can therefore be paired with a similar or compatible device for a higher power.
The starting mechanism is based on a simple traditional pull-start mechanism. Features Generac's PowerDial™, an easy-to-use dial with three control settings.
The fuel capacity of 1.06 gallons allows the GP3300i to run for up to 7 hours on a full tank (fuel consumption about 0.15 GPH).
The GP3300i generates a pure sine wave: sensitive electronic devices can be safely connected to their sockets with <3% Total Harmonic Disruption (THD).
Generac GP3300i Outlets
The control panel has the following 3 sockets:
Double-Sided 120V 20A (5-20R)

120V 30A Power Strip (L5-30R)
It also has 2 DC outputs: two 5V USB ports, which makes it convenient to charge electronic devices such as mobile phones and tablets.
Although this Generac generator is not RV-ready, the L5-30R connection can be used for a simple RV connection with an L5-30P to TT-30R adapter.
Portability of Generac GP3300i
Because the Generac GP3300i is an inverter generator, the encapsulated design (L22.2 x W13.3 x H18.4 inches) offers more aesthetics than a conventional open-frame product. This design is the most modern and convenient way to generate power recreationally.
With a dry weight of 59.5 lbs, the GP3300i can easily follow you wherever you need power. Moreover, changing is a breeze, as the GP3300i has a handy handle (molded into the housing), which greatly improves the grip.
Generac GP3300i Other Features
 The indicator lights on the unit indicate if the generator is ready, the oil level is too low, and the generator is overloaded.
For safety, the generator is equipped with overload protection (circuit breaker) and automatic low oil shutdown, giving you peace of mind during operation.
In addition to classic documentation and a user manual (opens in a new tab) to get you started quickly, the Generac GP3300i also comes with a few accessories: tool kit, funnel, and oil included.
The Generac GP3300i is covered by a warranty of up to 3 years. This warranty may be limited and may not cover all generator parts.
For more information about the warranty on Generac generators, see Generac warranty policy – opens in a new tab. Alternatively, you can also contact their customer service.
Generac GP3300i Portable Inverter Generator
3 new from $989.00

as of August 12, 2022 3:04 pm
PowerRush Advanced Technology increases initial capacity by over 50%, allowing you to accomplish more with less. When starting electric motors, increases electrical current on-demand; output is above rated.
An inverter with Low Noise Sound emissions is reduced, and performance is improved. Economy mode changes engine speed automatically to save fuel and reduce noise emissions.
TruePower Technology delivers clean, consistent power to sensitive devices, equipment, and appliances. Parallel Two GP3300i inverter generators are ready to be connected for double the power (parallel kit sold separately)
Transport is simply because of the compact and lightweight design, which has a built-in handle. Visual indications when the generator is low on oil, overloaded, or ready to use are provided by the status lights.
Choke, Run, and Off are three operation settings incorporated into one simple-to-use dial on the PowerDial. Mobile gadgets, such as smartphones and tablets, can be charged using USB ports.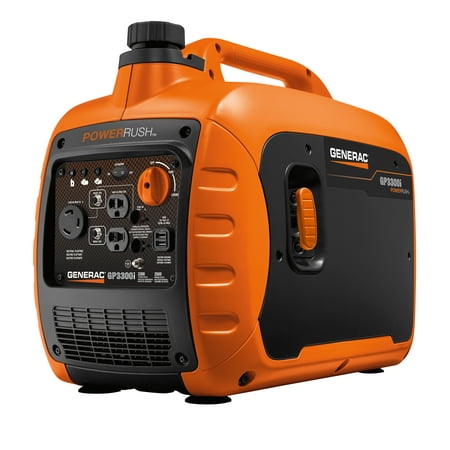 Generac GP3300i Manual Start Gasoline Powered Inverter Generator
★★★★★
$858.24 in stock
as of August 12, 2022 3:04 pm
Generac GP3300i Portable Generator Price History

Generac GP3300i Portable Inverter Generator, Generac
Price History
Statistics
| | | |
| --- | --- | --- |
| Current Price | $989.00 | August 12, 2022 |
| Highest Price | $999.00 | February 19, 2022 |
| Lowest Price | $979.00 | April 23, 2022 |
Since February 19, 2022
Last price changes
| | |
| --- | --- |
| $989.00 | July 2, 2022 |
| $999.00 | May 25, 2022 |
| $979.00 | April 23, 2022 |
| $989.00 | March 25, 2022 |
| $999.00 | February 19, 2022 |
Generac GP3300i Review Summary
People who help us to review Generac GP3300i Generator
Alex Grint
This is Alex Behind this Best Generator Review. I have completed my Diploma in Electrical & Advanced Electrical from Apex Technical School, NYC. The School curriculum covers an introduction to the National Electric Code and includes an emphasis on electrical safety, breakers and fuses, blueprints, grounding, outlets, splicing, and bonding. Besides my job, I like to spend my time testing and playing with different electrical devices. Generators are one of my favorite machines.
Read more on this topic