If you are looking for an inverter generator to suit your need for reliable power, then you need nothing except Generac GP3500iO Generator. Not only are the technological features advanced enough to facilitate their use, but they are also useful. You can now better your experience of generating portable power with this equipment.
The heart of the Generac GP3500iO is the Generac 212cc four-stroke OHV engine that runs on gasoline. With 120V output, it offers 3000W operating power and 3500W peak power. As it is parallel compatible, this power can be doubled when connected to another similar device or is supported.
With a fuel capacity of 2.37 gallons, the GP3500iO can run for up to 11 hours on a full tank.
How does it become a good Portable Inverter Generator?
Provides 2 DC Outputs: There are two 5V USB ports for convenient charging of electronic devices such as cellphones or tablets. While this Generac generator isn't quite RV-ready, its L5-30R plug allows for easy RV connection via an L5-30P to TT-30R adapter.
Portability: The Generac GP3500iO has a traditional open-frame design, dimensions: L 19.3 x W 16.9 x H 16.4 inches, which provides support and helps lift it off the ground. The generator is designed for ideal outdoor use and harsh environments. With a dry weight of 74.3 pounds, the GP3500iO lets you put its power where you need it. Additionally, the mobility of the generator is increased by its open-frame design, as it can be easily picked up and moved.
Easy Control Palen: To help you monitor the status and activity of the GP3500iO, your control panel is equipped with a digital data center that gives you insight into lifetime hours of use. In addition to this information, various indicator lights let you know when the generator is ready, the generator is overloaded, and your oil level is low.
Safety: As a safety measure, the device has overload protection (circuit breaker) and automatic shutdown when the oil level is low, so you can use it with peace of mind.
Few More Extra: Besides the classic documentation and a user manual (opens in a new tab) to get you started quickly, the Generac GP3500iO also comes with a few accessories: tool kit, funnel, and oil included.
Great Price: The Generac GP3500iO is in the middle of the price range compared to other 2500-3500W generators. Therefore, this generator fits very well within the budget provided for this type of product.
Sensitive electronics can be safely connected to AC outlets as the GP3500iO produces a clean sine wave and achieves <3% Total Harmonic Distortion.
Generac GP3500iO Generator Features
Do you travel to places where the electricity supply is a problem? Do you need a generator that you can travel with? A portable and reliable generator is the solution to your problem. We bring you a powerful generator that you can carry anywhere because of its compact size and lightweight.
The GP3500iO is ground-breaking because it is portable and has PowerRush Technology. You can take it on a camping trip or a job site. It is also ready to be plugged into your RV. It has USB outlets, and you can connect two in parallel. Its PowerRush technology delivers 50% more starting capacity so that you can do more with less. It is also 50% quieter, 25% lighter, and supplies clean power. You get many positive attributes, all in one place.
Light and portable
The GP3500iO is light and compact. It weighs around 74.3 pounds and is very portable. You can take it to a cabin in the woods, a camping trip in the mountains, or a remote job site. You can take it anywhere you want. You will not have to worry about both electricity and back problems. It is easy to carry the GP3500iO without fatigue.
You might like this generator even better if you have an RV. You would need extra equipment or a technician to set it up for you. It connects directly to RV and is easy to set up yourself. It can also power your RV air conditioner up to 15 000 BTU. You won't have to worry about the summer heat on your road trip. GP3500iO is a traveler's dream.
Safe and Powerful
The GP3500iO is built with Advanced PowerRush technology. It can deliver over 50% more starting capacity. When the electric motors are started, they can increase electric current on-demand above the rated output. The idea generators can supply the maximum watts in just a few seconds when they are started. The GP3500iO efficiently manages this with 3500 starting watts and 3000 running watts.
Amazing Power Technology
Also, GP3500iO has True Power technology. This technology makes the generator safe to use. You can plug sensitive electronics into this power supply. You will not have to be disappointed about damaging them. The power supplied by this generator is clean. Unlike conventional generators, the power supplied is even. There will not be voltage surges that can use the sensitive circuits in your electronics.
Quiet and Convenient
The GP3500iO is 50% quieter than the average inverter generator. That makes it the right choice for noise-sensitive environments. You can take it out into nature without the guilt of disturbing the peaceful atmosphere. The constant and loud drone of the conventional generator will become a distant memory when you start using this one.
Attractive USB Outlets
The GP3500iO has another useful feature. It has USB outlets so you can plug your electronics directly into its power supply. You can also connect two units of this generator with ease in a parallel arrangement. This will double up the power supply.
Good point about Generac inverter generator 3500
High starting capacity
Various accessories included
Suitable for sensitive electronics
Lightweight and Parallel capability
Quieter than average inverter generators
USB outlets for direct connection of devices
The thing I don't like about Generac 3500 watt generator
No electric start
Low fuel consumption
A little bigger than I thought
Relatively short execution time
Adding oil can be complicated
It can be connected in parallel but does not come with a parallel kit
It is undoubtedly an excellent feature to be able to maximize the power output through a parallel connection. But it is also an inconvenience to find a compatible parallel kit. You will have to invest in one separately to establish this connection.
Not only that but there are also times when you will be required to change the engine oil. Unlike most inverter generators, this one has a separate set of instructions for an oil change. All of this is done to ensure that the equipment design remains compact.
Generac GP3500iO Generator Review Conclusion
So, if you are looking for an inverter generator to suit your need for reliable power, then this is it. Not only are the technological features advanced enough to facilitate their use, but they are also useful. You can now better your experience of generating portable power with this equipment. The power you get is clean and stable. Either way, you can go through the features of this power equipment for yourself before making a final decision.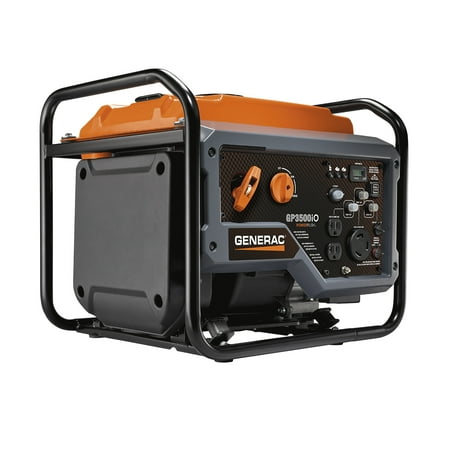 Generac GP3500iO - 3500 Watt Open Frame Inverter Generator
★★★★★
$839.00 in stock
as of August 12, 2022 2:47 pm
Generac GP3500iO Portable Generator Price History

Generac GP3500iO Open Frame RV Ready Inverter Generator, Generac
Price History
Statistics
| | | |
| --- | --- | --- |
| Current Price | $821.23 | August 12, 2022 |
| Highest Price | $821.30 | July 9, 2022 |
| Lowest Price | $720.72 | May 14, 2022 |
Since May 14, 2022
Last price changes
| | |
| --- | --- |
| $821.23 | August 8, 2022 |
| $821.30 | July 9, 2022 |
| $821.29 | June 28, 2022 |
| $755.10 | June 16, 2022 |
| $819.00 | May 17, 2022 |
Generac GP3500iO Portable Generator Review Summary
People who help us to review Generac GP3500iO Generator
Alex Grint
This is Alex Behind this Best Generator Review. I have completed my Diploma in Electrical & Advanced Electrical from Apex Technical School, NYC. The School curriculum covers an introduction to the National Electric Code and includes an emphasis on electrical safety, breakers and fuses, blueprints, grounding, outlets, splicing, and bonding. Besides my job, I like to spend my time testing and playing with different electrical devices. Generators are one of my favorite machines.
Read more on this topic