Firman 2000 watt generator review and Price History
Firman can be relied upon to supply you with long-lasting generators. Portable and light, this model is an excellent option for traveling. In a power outage, you may quickly move it from one location to another. When turned on, the Firman W01781 inverter produces 2100 watts yet only uses 1700 watts while running.
Because of the engine's 80cc displacement, the generator stays cool to the touch even at maximum output. The Phoenix Fat Head Block ensures this generator's efficiency. Regardless of the conditions, this is the best 200 Watt generator you can get your hands on.
This model has a Whisper Series muffler that reduces the noise level to 54 decibels, making it ideal for those who don't want their generator to be too noisy. The 1.2-gallon gasoline capacity ensures a 12-hour runtime. How much more do you require? Also worthy of mention is the first-pull recoil mechanism of the Firman First Pull:
Despite its small size, this model is built to last, and the ergonomic handle makes it a breeze to hold and operate.
Who can use this Generator?
Among the features of the Firman W01781 portable inverter generator are its quiet, compact, and lightweight design:
People who like camping as a hobby and those who want to improve their experience

Crafters who wish to work while on the move
A device's power characteristics, plug options, mobility, and any other features will be examined in the following areas as data on emissions compliance.
How much power can we get, and How much time can this Generator run?
Powered by an 80cc Firman Max-Pro Series OHV 4-stroke petrol engine, the Firman W01781 design has a continuous output of 1700 W and a peak output of 2100 W when connected to a 120 V outlet. A second compatible device can be used to double the output power, but the Firman Parallel Kit (opens in a new tab) must be purchased separately.
To start the inverter generator, it uses a conventional machine with a noise level of 54 decibels (dBa) (slightly louder than rain).
The W01781 can run for up to nine hours on a full gas tank (fuel consumption of about 0.1 GPH).
The W01781 generates a pure sine wave and achieves a THD of 3%, making it safe to connect electronic devices with high sensitivity to wall outlets (THD).
Number of Outlets
The following two sockets can be found on the control panel:
An AC 120V 20A Double Sided (5-20R)
A 5V USB connector lets you charge electronic devices such as mobile phones and tablets, while a 12V 5A socket (cigarette lighter style) enables you to recharge your batteries.
Portability of the Generator
The Firman W01781's closed inverter generator design (L20 x W12.1 x H16.7 inches) gives it a more attractive appearance than an open-frame generator would typically possess. Recreational electricity can be generated in the most efficient manner possible using this design.
The W01781 is a lightweight, portable generator because it weighs just 45.9 pounds. It should be easy to move for one person, allowing them to take advantage of the on-the-go power. With a handle incorporated into the case, you can easily carry it, enhancing your overall comfort.
Features we like about this machine
You'll know if the generator is overloaded, the oil is low, or if it's ready by looking at the conspicuous indicators.
This device has an automatic low oil shut-off for your safety and peace of mind when using it.
The Firman W01781 also comes with a few accessories, such as battery charging cords, a funnel, oil, and a tool kit, to help you get up and running quickly.
Warranty information
The Firman W01781 has a three-year warranty. It is possible that this guarantee does not cover all generator components.
For additional information on Firman generator warranties, please see their Warranty Policy (opens in a new tab). Contacting their customer service is another option.
Firman W01781 comparison with other
You can see how the Firman W01781's major specifications compare to other generators of the same power by looking at this comparison (between 1500 and 2500W).
The Firman W01781 weighs only 45.9 pounds, making it one of the lightest generators in the 1500-2500 rated power range. 200949 champion weighs 38.6 pounds, which makes it a contender in this category if weight is an issue.

The predicted noise level for this inverter generator is evaluated at 54 decibels (dBA), which is about typical for its power range. The Honda EU2200i, rated at 48 dBA, is one of the quieter generators of comparable power, which may interest you if noise emission is a concern.

The W01781's autonomy, at up to nine hours at 25 percent load, is on the lower end of the range for generators of this type in terms of performance. Westinghouse WGen2000 has the longest operating time of any generator in the same power range, with up to 26 hours of autonomy on a single full tank of fuel.

As crucial as run times are, they heavily depend on fuel capacity. Taking into mind the generator's fuel usage is necessary for a healthy image. Fuel consumption at 25 percent load is estimated at 0.1 GPH (gallons per hour), making it one of the most fuel-efficient inverter generators in its wattage class. Look to the Predator 2000 if you're not satisfied with the fuel efficiency mentioned above. It's one of the most fuel-efficient generators today, with a fuel economy of 0.08 GPH.
Firman WO1781 Whisper Series Inverter Generato
14 new from $649.99
1 used from $549.99

as of May 22, 2022 9:08 am
Firman 2000 watt generator  from Walmart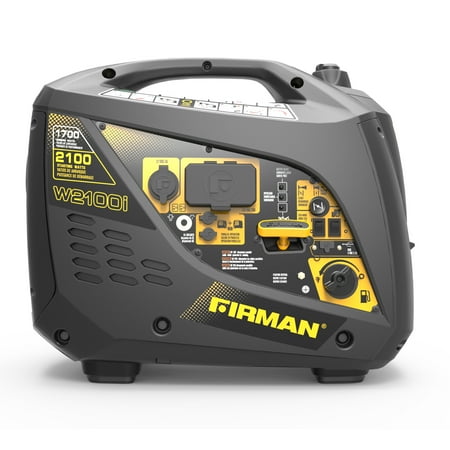 -6%
★★★★☆
$599.99 $644.46 in stock
Walmart.com
Last update was on: May 20, 2022 6:53 am
Few points about this Firman 2000 watt generator  review comparison above
All prices mentioned above are in United States dollar.
This product is available at Walmart.com, Amazon.com.
At walmart.com you can purchase Firman W01781 1700/2100 Watt Portable Gas Inverter for only $599.99, which is 8% less than the cost in Amazon.com ($649.99).
The lowest price of Firman WO1781 Whisper Series Inverter Generato was obtained on May 20, 2022 6:53 am.
Firman 2000 watt generator  Price History
Firman WO1781 Whisper Series Inverter Generato, Firman
Price History
Statistics
| | | |
| --- | --- | --- |
| Current Price | $649.99 | May 22, 2022 |
| Highest Price | $649.99 | February 12, 2022 |
| Lowest Price | $599.99 | February 7, 2022 |
Since February 7, 2022
Last price changes
| | |
| --- | --- |
| $649.99 | February 12, 2022 |
| $599.99 | February 7, 2022 |
Specification:
Firman 2000 watt generator review and Price History
| | |
| --- | --- |
| Fuel Tank Capacity | 1.2 Gallons |
| Noise level | 54 dBA |
| Run Time | 12 Hours |
| Running Watts | 1700 Watts |
| RV Ready | Yes |
| Start Type | Recoil |
| Starting Watts | 2100 Watts |
| Unit Weight | 44 Pounds |
10 reviews for
Firman 2000 watt generator review and Price History
Last updated on May 22, 2022 9:08 am
Firman 2000 watt generator review and Price History