Honda Em6500sx Review And Price
Honda makes portable generators for play, home, and work. The Honda EM6500sx is in the category of home use although it is Pro Grade! Although it is not as quiet as the one designed for play, it is still extremely quiet and comes at a much lower price. It does not have the OSHA requirements the work model has for construction sites but is perfectly safe, and that model does not have an electric start.
The Honda EM6500S portable generator is reliable and safe, which is most important if you need emergency power during a natural disaster or power outage. It is also durable enough for everyday use. Whether you're a general contractor who uses it daily or a family that only needs a generator for emergencies, the Honda EM6500S is one of the safest, most reliable, and quiet petrol generators.
Honda Em6500sx Review
As the number of reported power outages across the country has increased significantly over the past 15 years, it helps to have a Honda EM6500s generator.
Many of the disruptions are the result of an increase in extreme weather. However, power outages can happen at any time and for any reason. Even minor storms can cause power outages. Sometimes there are random outages due to downed lines or utilities. There is rarely a warning that you will have a breakdown.
A backup generator can make a difference to your quality of life during a power outage. A generator allows you to run certain appliances and provides a safer and quieter experience.
There are many generators on the market, but the 6500-watt Honda generator features make it stand out. We've reviewed it so you can learn about this generator and see why it's a smart buy for your home.
Why Honda 6500 Watt Generator is Best?
With a power of 6,500 watts, the Honda 6,500 watt generator allows you to power multiple devices simultaneously in the event of a power failure. The generator can also provide 7,000 watts of power for 10 seconds to power larger equipment if needed.
Take some time to think about the most important appliances in your home that you want to keep working during a power outage.
For example, running your fridge and freezer will help preserve your food, while your oven fan will help you maintain a comfortable temperature. You can also use smaller items like your coffee maker or hairdryer. Prioritize based on your anticipated needs and the energy each item will use.
When these electronics are in operation, your power outage will be more comfortable for your whole family.
Honda EM6500S Generator Produce Consistent Voltage:
Not all generators can provide a constant voltage or frequency. When a load is applied, the RPM drops and then has to recover. That kind of fluctuation in power can cause the devices you're using to shut down. It can also cause damage to the generator itself in the long run.
Honda EM6500S Generator has developed exclusive technology for its generators that avoids problems inconsistent power can cause. With the Honda EM6500S generator, you get precisely regulated voltage and frequency.
In a power outage, you want to be confident that the devices you power are working properly. You also want to protect the investment you are making when you choose to purchase a generator. Both are possible with the Honda Generator EM6500S and exclusive Honda technology.
Honda EM6500S Generator is Quieter than Other Generators:
Even if a generator works exactly as expected, you may never want to use it if the noise level is too high. A noisy generator is disturbing and misses the point of helping you and your family feel more comfortable during a power outage.
Living very close to your neighbours can also hinder them, which can cause problems in your relationships with your community. But even if you are in a rural area, a noisy generator will disrupt your daily activities. Noise level and quality often go hand in hand with generators.
The Honda Generator EM6500S operates at a low level of 73 decibels, so when it's running outside your house, you'll barely hear the noise inside. Also, check out the Honda EU7000iS and compare it with their 6500 generators.
Easy Assembly and Storage:
It is always best to prepare for a power outage well before the storm or incident that caused the power outage. However, sometimes you only have a few days to prepare. The Honda EM6500S is delivered almost fully assembled.
Once you have received it, you need to assemble the wheels, feet and handles, and your generator is ready. The folding handles also make it easy to transport and store when needed. A comprehensive and readable user manual is also supplied with your generator. It is an excellent guide to refer to the instructions or easily answer any question.
Allows a Long Run Time:
When your lighting goes out due to a storm or a power outage, it can take hours before you have electricity again. You want a generator that lasts to pass the time safely and quietly.
The Honda EM6500S generator has a fuel capacity of 6.2 gallons and can run for hours. Fully charged, it will power your electronic devices for approximately seven hours per full tank. It can last more than ten hours per full tank on a half charge.
Knowing that your generator has that capability is reassuring if you don't know exactly when the lights will come back on. By prioritizing which electronic devices you want to power, you can extend their run time to meet your needs.
Low Oil Alert:
If your generator is running low, it can be dangerous to keep running and damage your product in the long run. The EM6500S Honda generator is equipped with Honda Oil Alert to prevent this.
Honda Oil Alert detects when your generator is running low and automatically shuts off the engine. This protects you and secures your investment, so your generator will last for years and perform efficiently.
Honda EM6500S Generator Accessories:
Depending on your need and budget, you may want to purchase accessories to enhance your experience with your generator further. There are several additional products available for use with the Honda EM6500S.
Remote control kit so you can turn your generator on and off remotely
DC charging cable so that you can charge batteries without electric power
Transfer switches to safely connect your generator to your home
A suspension/lift kit so you can easily transport your generator if needed
Water-resistant cover so you can protect and store your generator safely
No additional purchases are required to get great performance from your generator. But if you expect to use your builder a lot or want to make sure you save it correctly, product plugins are a good option.
Honda Generator Warranty:
High-quality generators are worth it when you get excellent product support to go along with them. What's great about Honda generators is that every Honda Power product comes with Honda's 3-year warranty. The warranty covers the repair or replacement of any parts that become defective during normal use of the product.
Because Honda products are so widely used and sold, there is likely a Honda dealer near you who can conveniently take care of any necessary repairs. If your generator does need to be fixed under warranty, the process should be simple, and you should have your product back in working order quickly.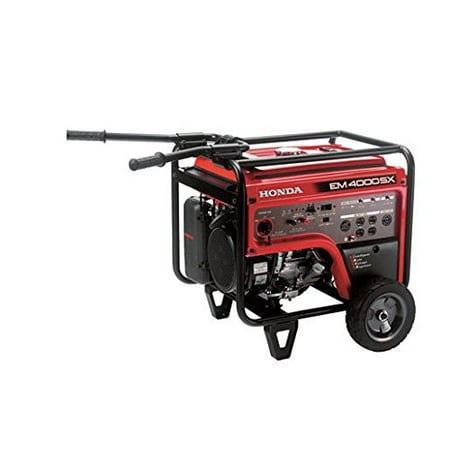 HONDA EM4000S Electric Start Generator, 3500W
as of September 24, 2023 6:26 pm
Honda EM6500S Generator w/ Electric Start, Honda
Price History
Statistics
| | | |
| --- | --- | --- |
| Current Price | $3,299.00 | September 27, 2023 |
| Highest Price | $3,299.00 | September 27, 2023 |
| Lowest Price | $3,031.99 | June 24, 2023 |
Since April 3, 2023
Last price changes
| | |
| --- | --- |
| $3,299.00 | September 27, 2023 |
| $3,099.00 | September 24, 2023 |
| $3,031.99 | August 27, 2023 |
| $3,099.00 | June 28, 2023 |
| $3,031.99 | June 24, 2023 |
Honda Em6500sx Review Verdict
Unlike most portable generators, it also has outlets that shut off power if there is a ground fault. A GFCI checks the amount of electricity going to and from your appliances and turns off the power. If the amount of electricity coming back decreases, the electricity has taken a different path. For example, if you drop a power tool into a muddy puddle by accident, the GFCI will turn off the power, so you don't get electrocuted.
The Honda EM6500S is one of the best portable generators because it has a lot of power, an electric start, a quiet engine, and many safety features. With the iAVR, you can safely power your appliances without worrying about voltage fluctuations and electrical distortions, which can damage circuitry. Get from amazon