Love this pulsar PG1202S Portable Gas Generator. Didn't output power at first, had to pull the front cover off and reattach a loose spade connector that popped off in transit. Otherwise, it's been a perfect little gen set.
A light indication lets you know right away if the generator is ready. In terms of security, the device has overload protection (circuit breaker), allowing you to use it confidently.
Aside from the standard documentation and an owner's handbook (opens in a new tab), which allows you to get started straight away, the Pulsar PG1202S comes with the following accessories: a tool kit and battery charging cords.
The Pulsar PG1202S meets EPA and CARB requirements. As a result, selling and purchasing this generator is legal in all 50 states, including California.
A one-year guarantee protects the Pulsar PG1202S. This warranty may be restricted and not cover all of the generator's components.
How much power can we obtain?
The Pulsar PG1202S is powered by a 72 cc (2.2 hp) Ducar 2-stroke engine that offers 120V, runs on gasoline, and has an operating wattage of 850W and a peak wattage of 1200W.
This generator runs on a primary classic pull-start mechanism and has a noise rating of 65 dBA (only slightly louder than background music).
With a full tank and a fuel capacity of 1.1 gallons, the PG1202S can run for approximately 8.5 hours at 50% load (fuel consumption around 0.13 GPH).
Availability of outlets
It provides Duplex 120V 20A. (5-20R). Furthermore, it has 1 DC outlet: a 12V 8A receptacle with which you may quickly charge your batteries.
Concerning the generator
The Pulsar PG1202S features a standard, open frame design with dimensions L14.6 x W12.4 x H12.4 in, providing support and allowing it to be lifted above ground level. The highlighted design is perfect for use outdoors and in any harsh climate.
Because the PG1202S weighs under 37.5 pounds, it qualifies as a portable, lightweight generator. A single person should have little trouble transporting it around and enjoy on-the-go power availability. This convenience is further emphasized by its handle, making it easy to carry.
Pulsar-PG1202S Portable Gas Generator Price History
Pulsar PG1202s Generator, Pulsar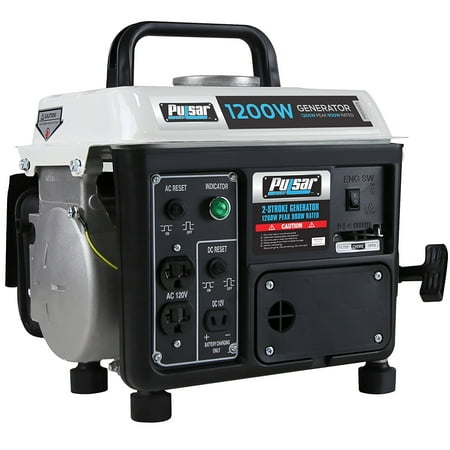 Price History
Statistics
| | | |
| --- | --- | --- |
| Current Price | $399.00 | August 12, 2022 |
| Highest Price | $399.00 | July 2, 2022 |
| Lowest Price | $399.00 | July 2, 2022 |
Since July 2, 2022
PG1202S Pulsar 1200 watt generator review
Pulsar PG1202S is one of the lightest 500-1500 watt generators at 37.5 pounds. The Yamaha EF1000iS is one of the lightest in its power level at 27.9 Pounds.
The PG1202S has a run time of 8.5 hours at 50% load with a full tank, which is typical for generators of this power. If autonomy is a priority, the A-iPower sua12000e has the most extended run duration at 11 hours.
This generator, with an operating power equivalent to others, is loud at 65 dBA. If noise emissions are a concern, choose the Honda EU1000i, which is 43 dBA quieter than this generator.
Autonomy is essential, but it depends on the generator's fuel capacity. Thus it's illogical to discuss it without addressing fuel efficiency. At 0.13 GPH at 50% load, this generator is typical for its wattage range. If you want to enhance fuel-efficiency, choose the Ryobi RYi2200, which uses 0.08 GPH.