Pulsar PG12000B specs, features, and price comparison are part of this review. Switch and Go technology enables you to switch between gasoline and propane while the G12KBN portable Pulsar generator runs for uninterrupted power. G12KBN dual-fuel operation When running on gasoline, this generator can produce up to 12,000 peak watts; while running on propane, it can have a maximum output of 10,800 peak watts. Using the 6.6-gallon gas tank, this portable generator can run for up to 13 hours at half-load, or it can be hooked up to a propane tank to run on LPG.
Who can use this Generator?
An excellent all-in-one power source for tiny homes, the Pulsar PG12000B is a very portable generator.
The device's power characteristics, outlets, portability, and any other features will be covered in the sections that follow as information on its emission compliance.
For whom we can use this Generator
If you're looking for a portable generator that can provide you with full power backup, the Pulsar 12000B is a great option.
The following sections describe the device's power characteristics, various outlets, portability, and additional features, including information on emissions compliance.
How much power can we get, and How much time can this Generator run?
The Pulsar PG12000B provides 120/240V output with exceptional power and versatility using dual-fuel technology. Running at 9500W and starting at 12000W, the device is powered by gasoline. Propane-powered: 8,550 watts at a steady-state and 10,800 watts at start-up
To power the generator, while switching between propane and gasoline, Pulsar developed a patented method called "Switch & Go."
The generator can produce 74 decibels of noise (just slightly louder than a shower). It has a manual starter and an electronic starter that is simple to operate (battery included).
The PG12000B, which has a fuel capacity of 8 gallons, can run for around 12 hours on a full gasoline tank at 50% load (fuel consumption of approximately 0.67 GPH). At least 5 hours are possible using propane (estimation based on a 20lb tank – propane consumption about 0.94 GPH).
Number of Outlets
The control panel has the following six ports available:
Duplex two 120 volts / 20 amps (5-20R)

a 30A 120/240V power supply (L14-30R)

Power strip, 120/240V, 50A (14-50R)
An additional DC output of 12V 8A allows you to charge your batteries quickly.
You can quickly plug in the PG12000B's L14-30R lockout socket to power your home during a power outage because it features an L14-30R rotary lockout socket.
Portability of the Generator
The Pulsar PG12000B is 28.5 inches long, 21 inches wide, and 22 inches high. In addition to providing structural support, they also elevate the generator above the surrounding ground. This style of design is best suited for locations that are both severe and frequently used outside.
It will be pretty challenging to carry and move the generator manually, even though it is categorized as "portable" (in being mobile). However, the wheelset and folding handlebars mitigate the lack of maneuverability that allows you to move it comfortably once it is on the ground.
Features we like about this machine
You can watch your battery life, voltage, and frequency with the PG12000B's control panel's convenient gauge.
Because it has a built-in fuel gauge, the generator makes it simple to check the gas level.
You can rest easy knowing that the gadget includes an automated low oil shutdown and overload protection (circuit breaker) when it comes to safety.
Additionally, a funnel, propane hose, and tool kit are included with the Pulsar PG12000B's package of essential documentation and an owner's manual (opens in new tab).
Warranty information
An up to two-year warranty is included with the Pulsar PG12000B's purchase. Some aspects of the generator may not be covered by this guarantee, which may be restricted in scope.
Please get in touch with Pulsar Customer Service if you have any questions about the manufacturer's warranty on their generators.
Conclusion
Pulsar PG12000B generator reviews should have convinced you that this is the ideal generator for your needs. If you need a generator, don't put it off any longer. For the best possible results, we recommend this Pulsar generator.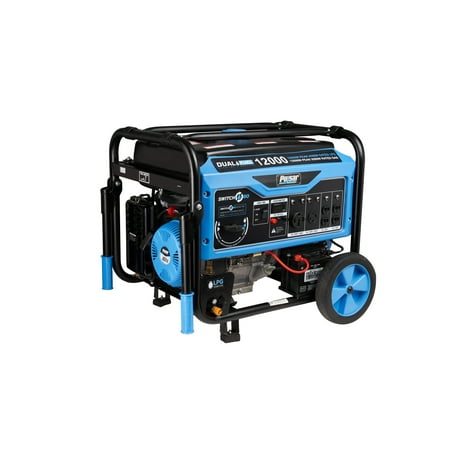 Pulsar 12,000W Dual Fuel Portable Generator
★★★★★
$1,949.99
$899.00 in stock
as of August 11, 2022 10:27 pm
Pulsar 12000 Watt Portable Generator Price History

Pulsar 12,000W Dual Fuel Portable Generator, Pulsar
Price History
Statistics
| | | |
| --- | --- | --- |
| Current Price | $1,099.99 | August 14, 2022 |
| Highest Price | $1,599.99 | July 4, 2022 |
| Lowest Price | $1,029.99 | June 30, 2022 |
Since April 28, 2022
Last price changes
| | |
| --- | --- |
| $1,099.99 | August 4, 2022 |
| $1,394.68 | July 31, 2022 |
| $1,069.99 | July 13, 2022 |
| $1,599.99 | July 4, 2022 |
| $1,029.99 | June 30, 2022 |
Pulsar 12000 Watt Generator Review Summary
People who help us to review Pulsar 12000 Watt Generator
Alex Grint
This is Alex Behind this Best Generator Review. I have completed my Diploma in Electrical & Advanced Electrical from Apex Technical School, NYC. The School curriculum covers an introduction to the National Electric Code and includes an emphasis on electrical safety, breakers and fuses, blueprints, grounding, outlets, splicing, and bonding. Besides my job, I like to spend my time testing and playing with different electrical devices. Generators are one of my favorite machines.
Read more on this topic