Pulsar 6580 Generator Review
The PG6580E gas-powered generator from Pulsar is a rugged and reliable portable power source you can rely on when you need it most. The single-cylinder OHV engine generates an astounding 6,580 peak watts of power for powering appliances, tools, and other equipment. The PG6580E's drop-down handles and never-flat wheels make it easy to transport and store in a power outage or when you require a portable energy supply while away from home.
Who can use this Generator?
In summary, the Pulsar PG6580E is a portable generator that is ideal for the following applications:
Tourists on RVs looking for even more freedom

.

People occasionally participate in outdoor fairs, festivals, or activities.

No food truck owner wants to see their business disrupted at any cost.

Homeowners who wish to utilize their most essential appliances even if there's a power outage.
In the following paragraphs, we'll review the device's power specs, outlets, portability, and other features and information on its emission compliance.
Comparison Between Pulsar PG6580E and Others
Power: 4500 watts / 7000 Watts
Engine: 389cc
Run-time: 11.2 Hours
Noise Level: 72 dBA
Outlets: 4 – 120V 20A, 120/240V 30A, 120V 30A RV
Fuel Tank: 6.2 Gallons
Size: 41.1 x 27.8 x 28.3 Inches
Weight: 240 pounds
Parallel Ready: No
Warranty: 3-Year
User Rating: – 4.90 Out of 5
Expert Score: – 5.00 Out of 5
Power: 3000 watts / 6000 watts
Engine: 196cc
Run-time: 20 Hours
Noise Level: 49 to 58 dBA
Outlets: 2 – 120V 20A, 120V 30A RV
Fuel Tank: 3.4 Gallons
Size: 25.9 x 17.6 x 22 Inches
Weight: 131 Pounds
Parallel Ready: Yes
Warranty: 3-Year
User Rating: – 4.60 Out of 5 – 80+ Customers
Expert Score: – 4.70 Out of 5
Champion 41311
Power: 6000 Watt / 7000 Watt
Engine: 389cc
Run-time: 10 Hours
Noise Level: 68 dBA
Outlets: 4 – 120V 20A, 1 – 120V 30A, 1 – 120/240V 30A
Fuel Tank: 6.5 Gallons
Size: 28.82 x 27.68 x 25.39 Inches
Weight: 220 Pounds
Parallel Ready: No
Warranty: 3-Year
User Rating: – 4.50 Out of 5 – 5+ Customers
Expert Score: – 4.60 Out of 5
How much power can we get, and How much time can this Generator run?
The 274 ccs (8 hp) Ducar OHV 4-stroke engine in the Pulsar PG6580E supplies 120/240V, burns gasoline, and produces 5500W of running power and 6580W of peak power.
The generator has a noise level limit of 72 decibels (slightly noisier than a vacuum cleaner). It has a conventional pull-start system and a sleek, straightforward electronic starter (Battery included).
PG6580E can run for 12 hours at 50% load (fuel usage around 0.43 GPH) on a full tank, thanks to its 5.2-gallon fuel capacity.
Number of Outlets
The control panel has the following six auxiliary power outlets:
Two 120V 20A duplexes (5-20R)

Receptacle with a 120V 30A (L5-30R) rating

The L14-30R is a 30-amp, 120/240-volt socket.
Also included is a 12V 8A DC outlet, which may be used to charge your batteries quickly and efficiently.
The L5-30R receptacle on this Pulsar generator allows it to be connected to an RV with an L5-30P to TT-30R adaptor, even though it isn't RV Ready. Additionally, the PG6580E's twist-lock L14-30R receptacle makes it transfer switch ready: you may connect it to a breaker box to power your home during a power outage.
Portability of the Generator
The Pulsar PG6580E has a standard, open-frame design with dimensions of L27.5 x W21 x H22, which provides support and stability and allows it to be raised above ground level. The design is well-suited to a wide range of challenging outdoor conditions.
It's possible to move the generator by hand, but doing so will be difficult due to the heavy weight of 140 lbs. that comes with it. It may be easily moved using the wheel kit and the folding handle attached to the handlebar when placed on the ground.
Features we like about this machine.
PG6580E's handy meter shows voltage, frequency, and lifetime hours. Using this function might help you monitor its status and activity. In addition, if the oil level is too low, you'll see a light signal. The generator's built-in fuel indicator makes determining the generator's fuel level simple, fast, and convenient.
This product has overload protection (circuit breaker) and an automated low-oil shut-off that ensures safety. The Pulsar PG6580E comes with a funnel and tool kit in addition to the usual papers and an owner's manual.
Warranty information
PG6580E has a two-year warranty. This warranty may be limited and not apply to all generator components. Please contact Pulsar Customer Support if you have any questions concerning the warranty on Pulsar generators.
Pulsar PG6580E comparison with other
The following graphs show how the Pulsar PG6580E's key features stack up against similar-sized generators for comparison's sake (between 5000 and 6000 W).
The Pulsar PG6580E weighs about 140 pounds, making it one of the most lightweight generators in the 5000-6000 watt category. The WEN GN6000, at 119 pounds, is one of the top performers in this power range if weight concerns you.

In other words, at 72 dBA, the generator produces noise in line with what might be expected from this powerful device. If noise pollution is essential to you, the Honda EU7000iS is one of the quietest generators in its power range at only 52 dBA.

A 12-hour operating period at 50% load on the PG6580E makes it a more reliable power source than most other generators. The Cat RP5500 is a great option, with 15 hours of autonomy regarding run time.

It's crucial to note that run duration depends on the gasoline tank's capacity. Thus it doesn't tell us anything on its own. One of the more fuel-efficient versions in the output above range, this generator consumes just 0.43 GPH (gallon per hour) at 50 percent load. As one of the most fuel-efficient models in this power range, the A-iPower 7000SL could be an option for your consideration.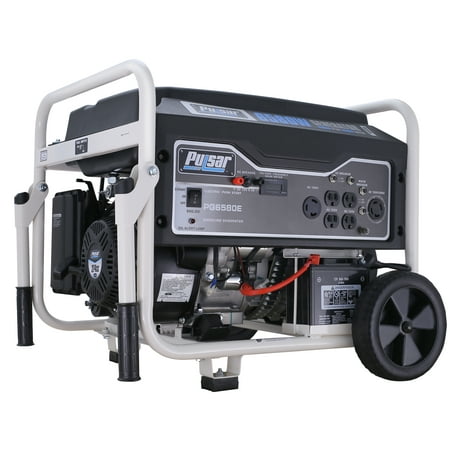 Pulsar 6,580 Peak Watt Gas-Powered Portable Generator
★★★★★
$799.95
$599.98 in stock
as of September 23, 2023 12:45 am
Pulsar 6580 Portable Generator Price History

Pulsar 6,580 Peak Watt Gas-Powered Portable Generator, Pulsar Products Inc.
Price History
Statistics
| | | |
| --- | --- | --- |
| Current Price | $599.98 | September 23, 2023 |
| Highest Price | $599.99 | April 10, 2023 |
| Lowest Price | $599.98 | July 4, 2023 |
Since April 10, 2023
Last price changes
| | |
| --- | --- |
| $599.98 | July 4, 2023 |
| $599.99 | April 10, 2023 |
Pulsar 6580 Generator Review Summary