What if there is a power outage and you have no idea how to finish your work? You can't always rely on electricity. The best remedy is to avoid the problem in the first place. As a result, you have the option of purchasing a generator to help you in an emergency. To help you get started, whether you're a rookie or want to replace your old generator, this page is here to help. If you need a lot of power in an emergency, a generator with an average output of 12000W is an excellent choice. A day of research has led us to conclude that the Pulsar 12000W generator is one of the top generators on the market today. If so, keep reading to learn more about it. "Come on." Let's go right to the point, shall we?
Pulsar is the most popular name at the top of the search results using Google. If you look at consumer reviews on eCommerce sites, you can understand how well it works. Pulsar, a California-based manufacturer of electric items, entered the market. Additionally, they sell high-quality electrical tools and electronic gadgets, such as cameras, to the general public.
Despite being designed in the United States, Pulsar generators are manufactured in China. A customer will only purchase a product if they have confidence in its dependability. You can expect the same thing from Pulsar generators. All of the user-friendly features are included at a fair price. Pulsar is a well-known brand that provides exceptional customer care and after-sales assistance.
Who can use this Generator?
With its powerful portable generator, the Pulsar G12KBN is aimed at small-scale households that need a complete power backup solution.
This section will discuss the device's power characteristics, available outlets, portability, and other features, along with its emission compliance information.
How much power can we get, and How much time can this Generator run?
The Pulsar G12KBN can run on either 120 or 240 volts thanks to its dual-fuel technology. It has a running wattage of 9500W and a peak wattage of 12000W when using gasoline. It has a rated power of 8550 watts and a peak output of 10800 watts when fuelled by propane.
There is a built-in noise level of 74 dB. (just slightly noisier than a vacuum cleaner). It has both a conventional pull-start mechanism and an electronic starter that is simple and convenient (battery included).
On the G12KBN's running time, a full gasoline tank allows it to run for approximately 12 hours at 50% load (fuel consumption around 0.67 GPH). For about 5 hours, a propane-powered generator can be used (estimation based on a 20 lbs tank – propane consumption around 0.94 GPH).
Number of Outlets
Six AC outlets are shown on the control panel:
In two 120V 20A duplexes (5-20R)

Receptacle with 120/240V 30A (L14-30R)

14-50R receptacle for 120/240V 50A power
Additionally, it features a single DC outlet with a 12V 8A output for charging your batteries.
When the power goes out, the G12KBN's twist-lock L14-30R receptacle can be used as a transfer switch to keep your house powered up during a power outage.
Portability of the Generator
The Pulsar G12KBN's open-frame design, which measures L28.5 x W21.8 x H22.2, provides stability and raises the generator above ground level. The design is well-suited for outdoor use in harsh conditions.
It may be difficult to move or transfer the generator, even though it is "portable," due to its 209 pounds (movable). Its wheel kit (10″) and folding handle make it easy to move once on the ground, making up for the lack of maneuverability.
Features we like about this machine
The G12KBN's control panel has a handy meter that displays voltage, frequency, and lifetime hours to help you keep track of the device's state and activities. You'll also be alerted to low oil levels by the light indicator that appears on the dashboard. The generator's built-in fuel indicator makes it easy to determine its fuel level.
This device comes with an automatic low oil shut-off and overload protection (circuit breaker) if you're concerned about safety. The Pulsar G12KBN comes with essential documentation and an owner's manual, allowing you to start the generator fast, and a gas hose, funnel, and tool kit.
Warranty information
The Pulsar G12KBN comes with a 1-year warranty. There may be a limit to this guarantee, and it may not cover all generator components. To learn more about Pulsar generator warranties, please contact Pulsar's Customer Support team.
Pulsar G12KBN comparison with other
To give you an idea of how the Pulsar G12KBN compares to other generators of the same power, the following charts are provided (between 9000 and 10000 W).
The Pulsar G12KBN weighs just 209 pounds, making it one of the lightest generators that produce between 9000 and 10000 rated watts. The Rainier R12000DF weighs only 196 pounds, making it one of the top performers in this power range if weight is important to you.

For a device of equivalent power, the generator's noise level is rated at 74 dBA, which is about average. 69 dBA A-iPower SUA13000EFI is one of the quietest generators of its kind, making it a good option if noise pollution is vital to you.

The G12KBN has a longer run life than an ordinary generator in its power range because it has roughly 12 hours at 50% load. When it comes to run times, the Powerhorse 13000ES, which has a comparable output, is one of the devices that can run for 15 hours.

It's vital to keep in mind that run duration is reliant on the tank's capacity, so it doesn't tell us anything on its own unless we consider gasoline usage. The fuel consumption of this generator is assessed at just 0.67 GPH (gallon per hour) at 50% load, making it one of the more fuel-efficient versions in the output above range. WGen9500DF, which has a gas consumption of 0.55 GPH, may be the right generator to enhance your fuel efficiency.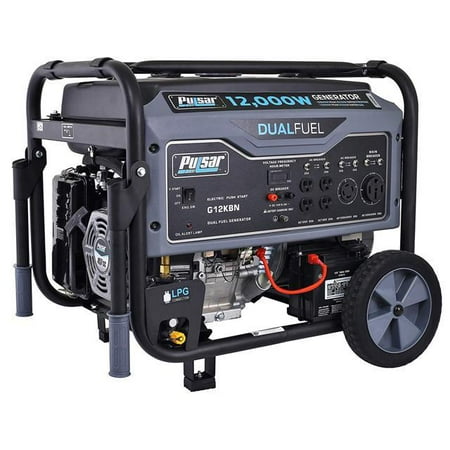 Pulsar 12,000W Dual Fuel Portable Generator
★★★★★
$1,417.49
$949.99 in stock
as of August 11, 2022 7:53 am
Pulsar g12kbn Portable Generator Price History

Pulsar G12KBN Heavy Duty Portable Dual Fuel Generator, Pulsar Products
Price History
Statistics
| | | |
| --- | --- | --- |
| Current Price | $999.99 | August 12, 2022 |
| Highest Price | $1,099.99 | April 28, 2022 |
| Lowest Price | $999.99 | April 29, 2022 |
Since April 28, 2022
Last price changes
| | |
| --- | --- |
| $999.99 | April 29, 2022 |
| $1,099.99 | April 28, 2022 |
Pulsar g12kbn Review Summary
People who help us to review Pulsar g12kbn generator
Alex Grint
This is Alex Behind this Best Generator Review. I have completed my Diploma in Electrical & Advanced Electrical from Apex Technical School, NYC. The School curriculum covers an introduction to the National Electric Code and includes an emphasis on electrical safety, breakers and fuses, blueprints, grounding, outlets, splicing, and bonding. Besides my job, I like to spend my time testing and playing with different electrical devices. Generators are one of my favorite machines.
Read more on this topic