Pulsar G12kbn SG Generator Review – Duel fuel Generator
Before starting this Pulsar G12kbn SG Generator Review we test a few other inverters as well. Including A-iPower SUA12000E, DuroMax XP12000EH, and Ford FG11050PBE.
The Pulsar G12kbn SG inverter generator delivers up to 12000 watts of power, making it an excellent choice for any kind of use. To sum up, the Pulsar G12kbn SG is a heavy power portable inverter generator. It's perfect for:
With its powerful portable generator, the Pulsar G12KBN is aimed primarily at small-scale homes that need a complete power backup solution.
10 things you should know about this Generator:
Power: 9500/12000 W on gasoline & 8550/10800 W by using LPG
Engine: 457cc
Run-time: 12 Hours at 50% Load
Noise Level: 72 dBA
Outlets: 4 – 120V 20A, 1 – 120/240V AC 30A, 1 – 120/240V RV
Fuel Tank: 8 Gallons
Fuel Consumption: 0.67 GPH
Size: 28.5 x 26 x 25.5 Inches
Weight: 209 Pounds
Parallel Ready: No
Warranty: 1-Year
---
Pulsar G12kbn SG Generator Review ware posted on – February 6, 2022. Last Updated – July 25, 2022
Expert Review Score – 4.55 Out of 5
User review on Amazon – 4.60 Out of 5 – 1.1K+ Customers
Power: 9000 watts / 12000 Watts
Engine: 459 cc
Run-time: 9 hours at 50% load
Noise Level: 78 dBA
Outlets: 4 – 120V 20A, 1 – 120/240V 50A RV, 1 Multifunction USB Port
Fuel Tank: 7 Gallons
Size: 27 x 27 x 27 Inches
Weight: 206 Pounds
Parallel Ready: No
Warranty: 2 Year
User Rating: – 4.50 Out of 5 – 500+ Customers.
Expert Score: – 4.60 Out of 5
Power: Gas-9500/12000, LPG-9025/11400W
Engine: 457cc
Run-time: 8 Hours
Noise Level: 72dBA
Outlets: 1 – 120/240V 50A, 1 – 120/240V 30A Twist Lock, 2 – 120V 20A, 1 – 120V 30A RV
Fuel Tank: 8.3 Gallons
Size: 30 x 29 x 26 inches
Weight: 224 Pounds
Parallel Ready: No
Warranty: 1-Year
User Rating: – 4.60 Out of 5 – 6.2K+ Customers
Expert Score: – 4.70 Out of 5
Power: Gas-9000/11050, LPG-8550/10500W
Engine: 457cc
Run-time: 10 Hours
Noise Level: 78 dBA
Outlets: 4 – 120V 20A, 1 – 120/240V 50A RV, 1 – 120V 30A
Fuel Tank: 6.6 Gallons
Size: 32 x 23 x 23 Inches
Weight: 196 Pounds
Parallel Ready: No
Warranty: 2-Year
User Rating: – 4.20 Out of 5 – 100+ Customers
Expert Score: – 4.30 Out of 5
The Pulsar G12KBN-SG may be the ideal dual fuel generator if you require a powerful backup or in-cab generator. It may not be suitable for motorhomes, but it has the same power and performance as the finest in its class.
Specifically, it has a 457cc engine that generates 9,500 watts on gas or 8550 watts on liquid propane while running on gasoline. Additionally, the surge watts of 12,000 for gas and 10,800 for LPG compare favorably with the best in class in this category.
One 120V/240V 50A and six standard household outlets make it ideal for powering both appliances and power tools. This is unquestionably an excellent alternative for offices or a source of emergency power in your house.
Alternatively, you can get this generator at a discount price. However, before buying a generator, you need to know a bit about it first. As a result, read on to discover more about the best Pulsar G12KBN-SG generator in our article below.
How much power can we get, and How much time can this Generator run?
The Pulsar G12KBN provides 120/240V power and versatility with its dual-fuel technology. It has a running wattage of 9500W and a peak wattage of 12000W when using gasoline. It has a rated output of 8550 watts and a peak power of 10800 watts when running on propane.
The generator has a noise level rating of 74 decibels (dBA) (just slightly noisier than a vacuum cleaner). An electric starter and a conventional pull-starter are also available for starting the vehicle (battery included).
When it comes to fuel capacity, the G12KBN, with an 8-gallon tank, can run for about 12 hours at 50% load with a full gas tank (fuel consumption around 0.67 GPH). Propane-powered equipment can run for about five hours (estimation based on a 20 lbs tank – propane consumption around 0.94 GPH).
Number of Outlets
Six AC outlets are shown on the control panel:
Two duplexes 120V 20A (5-20R)

The L14-30R is a 30-amp, 120/240-volt outlet.

Dishwasher receptacle, 50A, 120/240V
Also included is a 12V 8A DC outlet to recharge your batteries.
When the power goes out, the G12KBN's twist-lock L14-30R receptacle can be used as a transfer switch to keep your house powered up during a power outage.
Portability of the Generator
The Pulsar G12KBN's open-frame design, which measures L28.5 x W21.8 x H22.2, provides stability and raises the generator above ground level. The design is well-suited to a variety of challenging outdoor situations.
It was manually moving or carrying the generator, which weighs 209 pounds, maybe difficult, even though it is classified as 'portable' (movable). Its wheel kit (10″) and folding handle make it easy to move once it's on the ground, making up for the lack of manoeuvrability.
Features we like about this machine
The G12KBN's control panel has a handy meter that displays voltage, frequency, and lifetime hours to help you keep track of the device's state and activities.
Besides this, a built-in light indicator will alert you when the vehicle's oil levels are low. The generator's built-in fuel indicator makes determining the generator's fuel level quick, easy, and handy.
This device's automatic low oil shut-off and overload protection (circuit breaker) ensure that you can use it confidently. The Pulsar G12KBN comes with a propane hose, funnel, tool kit, and the owner's manual(opens in a new tab). This allows you to start the generator quickly.
WHAT DO WE LIKE?
Pulsar G12KBN-high SG's power is a massive bonus if you're looking for a reliable generator for your home. This is a no-brainer if you're running a construction site with lots of power tools. The Pulsar G12KBN-SG offers both an electric and a traditional starting mechanism. It sounds like an average vacuum cleaner or radio when it's running at 76 decibels (dB).
WHAT WE DON'T LIKE?
The Pulsar G12KBN-SG weighs a hefty 209 pounds. It's got durable 10-inch wheels and extensible handles, so moving it around is a breeze.
Warranty information
The guarantee for the Pulsar G12KBN is valid for one year from the date of purchase. This guarantee may not cover all generator parts.
Pulsar G12KBN comparison with other
The following graphs show how the Pulsar G12KBN's key characteristics compare to similar-sized generators (between 9000 and 12000 W).
In terms of weight, the Pulsar G12KBN is among the lighter devices in the 9000-10000 rated wattage range at only 209 pounds. In terms of dry weight, the Ford FG11050PBE, with a dry weight of only 196 lbs, is a champion in the same power range.
This generator has an estimated noise rating of around average for a device of its power because of its low noise output of 72 dBA. We recommend the DuroMax XP12000EH for those looking for a quieter option. If you're looking for the slowest device in this power range, this is it.

The G12KBN has a longer operating time than many other generators of comparable output, clocking in at roughly 12 hours at 50% load.

Autonomy has a significant role to play. However, because it is primarily dependent on the fuel capacity of the generator, excluding discussion of fuel efficiency would be pointless. This generator consumes just 0.67 GPH (gallon per hour) of fuel when running at half-load. The Westinghouse WGen9500DF may be worth looking at if you're not content with the amount of energy it consumes. At 0.55 GPH, it is among the most fuel-efficient generators on the market.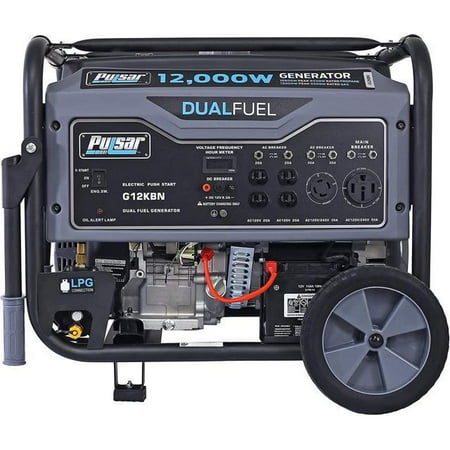 Pulsar G12KBN-SG Heavy Duty Portable Dual Fuel Generator
$1,417.49
$949.99 in stock
as of August 12, 2022 10:17 pm
Pulsar G12kbn SG Generator Price History

Pulsar G12KBN-SG Heavy Duty Portable Dual Fuel Generator, Pulsar Products
Price History
Statistics
| | | |
| --- | --- | --- |
| Current Price | $999.99 | August 12, 2022 |
| Highest Price | $999.99 | May 1, 2022 |
| Lowest Price | $999.99 | May 1, 2022 |
Since May 1, 2022
Pulsar G12kbn SG generator Review Summary
People who help us to review Pulsar g12kbn sg generator
Alex Grint
This is Alex Behind this Best Generator Review. I have completed my Diploma in Electrical & Advanced Electrical from Apex Technical School, NYC. The School curriculum covers an introduction to the National Electric Code and includes an emphasis on electrical safety, breakers and fuses, blueprints, grounding, outlets, splicing, and bonding. Besides my job, I like to spend my time testing and playing with different electrical devices. Generators are one of my favourite machines.
Read more on this topic