The Ryobi RY906500S Portable Generator is the perfect power solution at home or on the job site. This generator delivers 6,500 Running Watts and 8,125 Starting Watts of power. A durable wrap-around hand truck frame and ten. Wheels help protect the unit while making it easy to transport.
Ryobi 6500 watt generator reviews
If you're looking for massive and powerful generators, the RYOBI Portable Generator is worth considering. The RYOBI company is known for its robust and reliable power banks.
The RYOBI 6500 Watt Portable Generator is perfect for providing continuous power during power outages. At first, it delivers 8,125 watts, then it delivers a steady 6,500 watts.
The RYOBI 6500 Watt Generator is an ideal backup solution for homes, resorts, outdoor parties, and workplaces like offices. It is a portable gasoline-powered generator with a ten-inch-wide wheeled hand truck. The entire setup makes for a compact powerhouse that you can easily take anywhere.
Feature of Ryobi RY906500S
The generator is equipped with overload protection (circuit breaker) and automatic shutdown in case of lack of oil, giving you peace of mind during use.
Power
The Ryobi RY906500S features a 420cc 4-stroke OHV engine that supplies 120/240V, burns Gas, and we already know it generates 6500W of running watts with 8125W of starting watts.
Noise
With a noise level of 72.3 dBA, the generator starts via Ryobi's EasyStart starter. Honestly, 72 is slightly louder than a dishwasher so no need to worry about it. With a 6-gallon fuel capacity, the RY906500S can run for approximately 10 hours at 50% load with a full tank.
Number of outlets
The control panel has the following 5 AC outlets. Four 120V 20A GFCI Protected) and one 240-Volt 30 Amp Twist Lock Outlet. The RY906500S is ready to switch: you can plug it into a fuse box to power your home in the event of a power outage.
Weight and Portability
The Ryobi RY906500S dimensions are L 39 x W 29 x H 24.5 inches. Combined with their conventional open-frame design, they provide support and allow the generator to be lifted off the ground. The device has been designed for harsh environments and demanding outdoor use.
Because the generator weighs 205 pounds, it will be incredibly difficult to manually lift and transport, even though it is technically portable.
Emission
The Ryobi RY906500S is EPA approved but is NOT CARB compliant. Therefore, it cannot be bought or sold in California.
Starting process of the Generator 
The simplest starting generators have an electric start. Although this model doesn't include this feature, Ryobi still makes it super easy.
There are three settings in the Easy Start system: Off, Cold Start, and Run. During the transition from stop to a cold start, the circuit is closed, and the fuel valve is partially open. In operation, the fuel valve is fully open.
The downside is that you can't close the fuel valve and allow the engine to drain fuel from the carburetor. However, there is a screw you can remove to drain the carburetor if you are storing it for a while. If you're a do-it-yourselfer, you can also add a valve to the line without much effort.
There is an on/off switch next to the CO sensor. At first glance, it looks like it could be a sensor bypass or even a switch that activates the sensor when the CO levels get too high. However, this is just your standard generator on/off switch in a different location. If you are having trouble starting the engine, take a quick look and ensure it is in the run position.
Ryobi RY906500S Portable Generator Buying Tips
Before purchasing a portable generator, power bank, or power station, there are a few notable things to keep in mind.
Portable generators come in a variety of sizes, so keep an eye on your power needs and then choose accordingly. There are also fuel options. Some compact generators use gasoline, diesel, or propane. Discuss fuel type availability and fuel tank size as needed.
Few portable generators are now available with lithium batteries. These dynamos can be charged via an external power supply. Various compact generators have various safety features such as inverter, sine wave, etc. These features ensure a safe and constant power supply. Decibel ratings are important because the decibel rating determines the amount of noise a generator produces while it is running. So if you want a quiet portable generator, compare its decibel ratings to other dynamos.
When shopping for a portable generator, there are many other features to consider depending on individual power needs.
Ryobi 6,500-Watt Gasoline Powered Portable Generator
8 new from $1,114.76

as of August 14, 2022 8:00 pm
Features
8,125 Starting Watts and 6,500 Running Watts
Automatic CO Shutoff With CO Sensor For Increased Safety
Automatic Voltage Regulator for Cleaner, More Reliable Power
Ryobi RY906500S Portable Generator from Walmart
The RYOBI 6500 Watt Generator is the perfect set for constant power supply during power outages. It comes with a sturdy and durable frame hand truck that makes it portable and compact. It is a complete power solution for home, outdoor, and office use.
Safety sensors are the best feature of RYOBI generators. Automatic voltage sensing prevents fluctuations and ensures a constant power supply to connected devices. CO (carbon monoxide) sensors protect against excessive levels of poisonous carbon monoxide, which is the end product of gasoline. Therefore, it offers a cleaner and more environmentally friendly energy solution. If you need to check with more power like 8KW then do not forget to check out the Best 8000 Watt Generator Review for Mid Size House.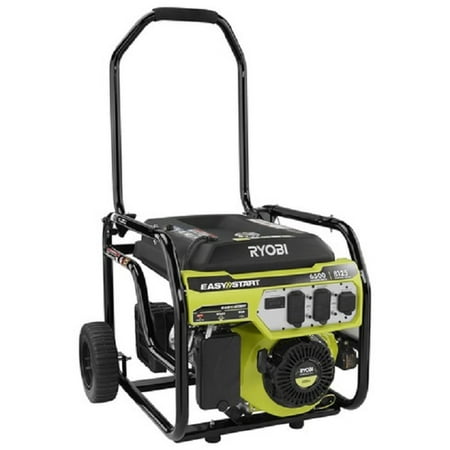 Ryobi RY906500S 6,500-Watt Gasoline Powered Portable Generator
$1,436.39 in stock
as of August 14, 2022 8:00 pm
Ryobi 6500 Generator Price History

Ryobi 6,500-Watt Gasoline Powered Portable Generator, RYOBI
Price History
Statistics
| | | |
| --- | --- | --- |
| Current Price | $1,129.75 | August 14, 2022 |
| Highest Price | $1,129.75 | August 13, 2022 |
| Lowest Price | $924.49 | April 29, 2022 |
Since March 4, 2022
Last price changes
| | |
| --- | --- |
| $1,129.75 | August 13, 2022 |
| $1,088.88 | August 7, 2022 |
| $1,107.30 | July 21, 2022 |
| $1,070.23 | July 15, 2022 |
| $1,061.25 | July 4, 2022 |
Ryobi 6500 Generator Review Summary
People who help us to review Ryobi 6500 Generator
Alex Grint
This is Alex Behind this Best Generator Review. I have completed my Diploma in Electrical & Advanced Electrical from Apex Technical School, NYC. The School curriculum covers an introduction to the National Electric Code and includes an emphasis on electrical safety, breakers and fuses, blueprints, grounding, outlets, splicing, and bonding. Besides my job, I like to spend my time testing and playing with different electrical devices. Generators are one of my favorite machines.
Read more on this topic