Wen 56200i Review – 2000-Watt Portable Inverter Generator
WEN 56200i portable gas-powered portable inverter generator has a lot to offer. It is highly reliable, clean-burning, and energy-efficient. It provides excellent Value for Money and is the best cheap inverter generator for additional backup power. It is the ideal generator for essential power when using small construction tools like hand saws and drills. In this wen 56200i review, we will show you why this is a fantastic alternative to any expensive inverter generator on the market.
You can also use this portable generator during power outages, tailgating, camping, and hunting in all weather conditions. The unit also provides a consistent power supply to simultaneously operate your internet WiFi router and large household appliances. One highlight of the WEN 56200i is its adaptability. With the parallel kit, you receive twice more power to increase the wattage between 1600 and 2000 watts.
This Wen's best inverter generator is safe and easy to use. The unit is lightweight, portable, versatile, and energy-saving. One feature ensures you experience fewer drop-outs and voltage surges to reduce energy costs. Low-noise emissions ensure you don't disturb those around you when it is operating.
There's a multi-purpose control panel that offers:
Two three-prong 120V receptacles
One 12v DC receptacle
One 5V USB port
3-in-one on/off choke switch
The eco-throttle mode offers a low-fuel, low-oil automatic shut-off switch that adjusts to power-saving mode. This helps conserve electricity and gas when you unplug and plug-in devices often. Further, the indicator switches on to protect the units from a circuit overload or possible damage to small electronic devices.
The best inverter generator among its competitors, it runs on a 79.7 cc 4-stroke OHV engine. Also, it has a quiet operation rate of 51 decibels per quarter load. There's no more noise than in regular conversation or operating a window air condition unit. It comes in a user-friendly carrying case that's easy and lightweight to transport.
The super-efficient one-gallon fuel tank capacity runs up to six hours on half-load run time. There are multiple charging and recharging options for running various devices and appliances. It generates enough power to run your furnace, fans, televisions, LED lighting, barbecue grill, sound system, and other devices. For outdoor use, it quickly powers up a small hunting cabin.
Comparison Between Wen 56200i and Others
Power: 1600 Watts / 2000 Watts
Engine: 79cc
Run-time: 10.5 Hours at 25% Load
Noise Level: 51.5 dBA
Outlets: 2 – 120V 20A, 1 – 12V DC 8A Outlet
Fuel Tank: 1.1 Gallons
Size: 19.3 x 11 x 17.9 Inches
Weight: 44.1 pounds
Parallel Ready: Yes
Warranty: 3-Year
User Rating: – 4.50 Out of 5 – 500+ Customers.
Expert Score: – 4.60 Out of 5
Power:1600 Watts / 2000 Watts
Engine: 79cc
Run-time: 10 Hours
Noise Level: 58 dBA
Outlets: 1 – 120V 20A, 120V 30A RV, 1 USB Port
Fuel Tank: 1.1 Gallons
Size: 20.9 x 12.4 x 19.3 Inches
Weight: 48 pounds
Parallel Ready: Yes
Warranty: 3-Year
User Rating: – 4.20 Out of 5 to 100+ Customers
Expert Score: – 4.40 Out of 5
Power: 1600 Watts / 2000 Watts
Engine: 80cc
Run-time: 7.7 Hours
Noise Level: 53 dBA
Outlets: 2 – 120V 13.3A
Fuel Tank: 1.06 Gallons
Size: 20 x 12.6 x 16.9 Inches
Weight: 46.2 Pounds
Parallel Ready: Yes
Warranty: 2-Year
User Rating: – 4.40 Out of 5 – 600+ Customers
Expert Score: – 4.50 Out of 5
Wen 56200i Features
Generates 2000 cranking watts with 1,600 running watts of cleaner, safer power for sensitive electronics such as phones, televisions, laptops, and other electronics
produces clean power to safely operate and prevent damage to sensitive electronics such as phones, tablets, televisions, and computers
A powerful 79cc 4-stroke OHV engine provides sufficient power supply and still runs with the ultra-quiet operation of just 53 decibels.
Lightweight and compact at just 50 pounds to make your tailgate or camping experience as smooth as possible
Runtime: 9.4 hours @ ¼ load
The positive side of Wen 56200i
During the Wen 56200i 2000-watt 79.7cc inverter generator review, we found a few points like the compact design, and a few others that we like most are:
Lightweight design and affordable Price along with the energy-saving mode
A multi-purpose charging system best for sensitive electronics lies in mobile phones.
Weatherproof operation and clean power.
The wrong side of Wen 56200i
During Wen 56200i Review, we found some bad points for me. Here are some:
The unit is a bit tall.
Its fuel shut-off can be faulty.
Who makes wen generators? China it is.
Wen 56200i vs honda eu2000i
When we start the Wen 56200i review, we compare this with a few other Brand's Portable generators with the same power outage. Honda eu2000i was one of our favorite ones. Let's check out the point we notice during the review.
In terms of Price, the Wen 56200i is Much cheaper than the honda eu2000i.
Wen 56200i is quieter than the honda eu2000i.
Wen 56200i is a bit heavier than Honda, Wen 56200i weighs in at around 48 lbs, but Honday weighs in at around 40 lbs.
Wen 56200i is 18″ long x 11″ long x 18 inches high, But The Honda EU2000i is 20″ long x 11″ wide x 16″ high.
Wen 56200i has two x 120V AC ports, one x 12V DC port, and a 5V USB port, but there are two x 120V AC ports, plus one x 12V DC port in the Honda EU2000i. Honda does not have a USB port.
From a Normal user point of view, Wen 56200i is the winner. But If you pay close attention, then you may astonish at why the price difference is so big. Honda comes with an awesome Radio France Internationale (RFI) filtering where Wen 56200i Emits extreme levels of RFI hash. If you have sensitive communication equipment, then you must think wisely.
Which WEN-generator is the best?
Best depends on how much power you need, How much money you can spend, and What kind of fuel power matching you want.
Editor's Pick: WEN 56200i. Our wen 56200i review shows you that this inverter generator is surprisingly quiet, money and fuel-efficient, and provides enough watts for a handful of devices and tools. "
Best wen generator: WEN DF475T "This dual fuel generator has an extremely efficient engine and runs on gasoline or propane with no performance loss."
Best Value Wen-Generator: Wen 56380i "This affordable generator combines power and versatility and has a handy LED display to monitor its performance."
Best Wen-generator for motorhomes: WEN 56310i "A good, inexpensive, and portable alternative to a standby generator, this model offers 11,000 watts of continuous output."
Budget choice: Wen 56203i "Compact and inexpensive, this conventional generator offers a decent runtime of 7.5 hours at half load and is designed for a long service life."
Are WEN-Generators reliable?
Of course, In terms of power production and Price combination, they are a fantastic alternative to any expensive inverter generators on the market.
Is WEN or PredatorPredator generator better?
During our wen 56200i review, we found that Wen 56200i is a bit better than Predator 62523; though they both can provide the same amount of power in terms of fuel efficiency, they make some slight difference. Wen is Made in China, but Predator is by a California-based company called Harbor Freight Tools. And PredatorPredator is a bit lighter than Wen.
Are WEN and Generac the same?
In the wen 56200i review, we found that terms of a power outage, Generac iQ2000, and the WEN 56200i are the same. We did also check wen 56200i vs 56225i vs Generac iQ2000, and In many angels, 56200i come over them,
Wen 56200i Review Conclusion
There are some issues with the spark plug that broke while trying to remove it. Some say the unit is too bulky and not as quiet as advertised. A few users also state the machine needs to be bulkier and requires frequent oil changes. Also, the cooling capacity tends to lock in vapor after prolonged use.
It may also overload sometimes when running some appliances. There were also some issues with removing the side pane to access the carburetor filter. However, the WEN 562001i portable inverter generator is the first choice for many who like its size, price, fuel consumption, smooth operation, and efficiency. I hope this Wen 56200i Review helps you. Please let us know through the comment section.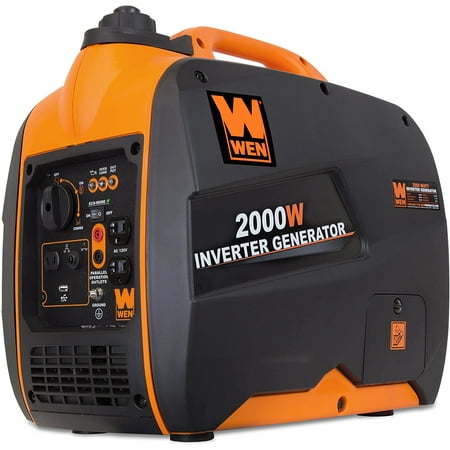 WEN 56200i 2000-Watt Gas Powered Portable Inverter Generator, CARB Compliant
$533.50 out of stock
as of June 4, 2023 1:49 am
Wen 56200i Portable Generator Price History

WEN 56200i 2000-Watt Gas Powered Portable Inverter Generator, WEN
Price History
Statistics
| | | |
| --- | --- | --- |
| Current Price | $429.00 | June 4, 2023 |
| Highest Price | $429.00 | April 7, 2023 |
| Lowest Price | $429.00 | April 7, 2023 |
Since April 7, 2023
Wen 56200i Review Summary