Before starting this Yamaha EF2000iSv2 Review, we test a few other inverters as well. Including Westinghouse WH2200iXLT, Briggs & Stratton P2400, and Pulsar G2319N.
The Yamaha EF2000iSv2 is the upgraded version of the EF2000is device, and it generates a higher power output than the previous model. EF2000iSv2 is said to be one of the most popular inverter generators because of its excellent features. Let's find out what this portable and retro-cool inverter has to offer. Let's read Yamaha EF2000iSv2 Review.
Who can use this Generator?
This portable inverter generator from Yamaha is designed for the following applications:
Hobbyists who enjoy camping and tailgating and need a portable power source

Inexperienced do-it-yourselfers
In the following sections, we'll analyze the device's power characteristics, the number of outlets it may use, its portability, and other features, including information on its emissions compliance.
Comparison Between Yamaha EF2000iSv2 and Others
Power: 1600 Watts / 2000 Watts
Engine: 80cc
Run-time: 6.5 Hours at 50% load
Noise Level: 61 dBA
Outlets: 2 – 120V 13.3A
Fuel Tank: 1.19 Gallons
Size: 20 x 10.5 x 18 Inches
Weight: 53 Pounds
Parallel Ready: Yes
Warranty: 3-Year
User Rating: – 4.00 out of 5 – 40+ Customers
Expert Score: – 4.10 Out of 5
Power: 1600 Watts / 2000 Watts
Engine: 80cc
Run-time: 7.7 Hours
Noise Level: 53 dBA
Outlets: 2 – 120V 13.3A
Fuel Tank: 1.06 Gallons
Size: 20 x 12.6 x 16.9 Inches
Weight: 46.2 Pounds
Parallel Ready: Yes
Warranty: 2-Year
User Rating: – 4.40 Out of 5 – 600+ Customers
Expert Score: – 4.50 Out of 5
Honda EU2000I
Power: 1600 Watts / 2000 Watts
Engine: 98.5cc
Run-time: 8h Hours at 1Gallon Gas
Noise Level: 51 dBA
Outlets: 2 – 120V 20A, 2 USB Port
Fuel Tank: 1 Gallon
Size: 20.1 x 11.4 x 16.7 Inches
Weight: 45.6 Pounds
Parallel Ready: Yes
Warranty: 3-Year
User Rating: – 4.70 Out of 5 to 400+ Customers
Expert Score: – 4.80 Out of 5
How much power can we get, and How much time can this Generator run?
Yamaha's MZ80 OHV 4-stroke engine powers the EF2000iSv2. The running wattage is 1600W, the peak wattage is 2000W, and it is powered by gasoline. Additionally, a second generator can be connected to the generator in parallel for increased power (Twin Tech cable(opens in a new tab) not supplied).
Our ten quietest portable generators list includes the inverter generator because of its low 51.5 dBA noise level (a little louder than having a conversation at home). It uses a standard pull-start starter as its starting method.
The Smart ThrottleTM on this generator is a Yamaha invention. Fuel efficiency and noise reduction are improved by using this load-sensing technology.
A full tank of 1.1 gallons of fuel allows the EF2000iSv2 to run for up to 10.5 hours on a single charge.
Because the EF2000iSv2 generates a pure sine wave with a THD (Total Harmonic Disruption) of less than 2.5%, it is safe to plug in electronic devices that require a clean sine wave.
Yamaha EF2000iSv2 Portable Inverter generator Features
Products Design
The Yamaha EF2000iSv2 has a sleek and unusual design. The slim design and the round edges remind you of a radio. It produces electrical waves and not sound waves. The power output stands at 2000 watts and is standard for all generators in that category.
The Yamaha EF2000iSv2 is an easily portable and user-friendly generator. This inverter is mainly used for power supply during off-grid outdoor activities like camping, tailgating, and more.
Wide range of Features
The top three features of the Yamaha EF2000iSv2 are its silence, lightweight, and compactness. It comes with a U-shaped handle that aids in easy portability and mobility. It is also slimmer in comparison to the other generators in the market. The weight of the Yamaha EF2000iSv2 is just over 44 lbs, which is its primary selling point.
This Yamaha inverter generator is quiet compared to the other portable generators in the market. Hence, it is the best in the market for any recreational purposes. The noise level of this device is just 61db, which is one of the lowest.
The Yamaha EF2000iSv2 also offers a longer run time. With a 25% electrical output load, the generator provides a run time of about 10.5 hrs. This is quite long for an inverter of this size and is one of the key considerations if you're looking to buy a portable inverter.
Excellent Power Output
Moving to the aspect of power output, the Yamaha EF2000iSv2 offers a result of 1600 watts at a 2000-wattage surge power, which is decent for charging household appliances and electronic devices like laptops, tablets, mobiles, DSLR cameras, and gaming consoles. It contains a fuel tank capacity of around 1.1 gallons, which means it is excellent for fuel efficiency.
This quiet generator takes the supply of clean electricity to a different level. The device has Pure Sine Wave technology and Pulse Width Modulation that provides frequency stability of 0.1 hertz and voltage stability of 1%, which is amongst the best in the market.
Efficient in Everyway
The Yamaha EF2000iSv2 has a Smart Throttle system that ensures a centralized control panel and fuel efficiency. This generator's control panel features a simple turning knob to start the device, circuit breakers, a fuel gauge, an overload indicator light, and an oil watch warning system.
The Yamaha EF2000iSv2 also has an auto-warm-up system and an auto-decompression system. The decompression system decompresses the compression to ensure a more leisurely pull start. The auto-warm-up system increases the engine's speed, enabling high-power devices to be connected quickly.
Multiple Outlets
The Yamaha EF2000iSv2 has three outlets but does not have any USB ports. These three outlets are power outlets and thus allow multiple devices to be charged at once. Lastly, the Yamaha EF2000iSv2 is CARB and EPA-compliant, which means that it is environmentally friendly, and users need not worry about the device's negative impacts when used. Moreover, this is safe in terms of engine emission as well.
What we like most about this Yamaha EF2000iSv2 generator
It comes with a centralized access control panel system.

Equipped with smart throttle technology

The presence of Gasoline petcock and fuel gauge

The noise level of this device is just 51.5db, which is one of the lowest.

High quality and supplies clean power for charging the battery and Mobile devices.

It can power a much more comprehensive range of applications.

Three years Limited Warranty
What we don't like about this Yamaha EF2000iSv2 generator
During this Yamaha EF2000iSv2 Review, we found a few odd points too.
Absence of USB ports outputs.

It has a high fuel consumption.

High price tag
Warranty information
The Yamaha EF2000iSv2 comes with a 3-year limited warranty. There may be a limit to this guarantee, and it may not cover all generator components.
Please see Yamaha's warranty policies for further details on the warranty of Yamaha generators (opens in a new tab). You can also get in touch with their Customer Support department.
Comparison between Yamaha EF2000iSv2 vs. Honda Eu2200i models
We have some excellent manufacturers in terms of generator Comparison, especially inverter generators. Among them, brands like Honda and Yamaha are always the best competitor. Both companies have some popular inverter generator models. Honda has the Eu2200i model, and on the other hand, Yamaha has the EF2000iSv2 model.
This type of generator makes the comparison a bit higher. A performance like low Noise, Quiet operation, Longer load time ability, comparatively Larger fuel tank size, and a wide range of outputs make them excellent inverter generators.
Not only the High-level performance but also Yamaha looks prettier than Honda. You may notice that its weight, Yamaha weighs (44.1 pounds) less, making it easier to carry around.
Honda EU2200i offers more watts than Yamaha. Though 200 watts is not a huge difference, it can help with a smooth operation.
These products come at almost the same price. However, Yamaha sells for a bit cheaper depending on the dealer.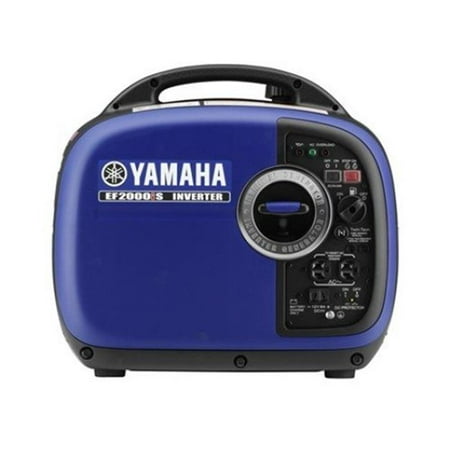 YAMEF2000ISV2 Inverter Generator
$1,516.41
$1,166.37 out of stock
as of March 13, 2023 7:05 am
Yamaha EF2000iSv2 Price History
YAMAHA EF2000iSv2, Portable Inverter, Yamaha
Price History
Yamaha EF2000iSv2 Review Conclusion:
If you are looking for an affordable price, performance, less background noise, and suitable quality generators, then the Yamaha EF2000iSv2 is an ideal solution. This amazing inverter generator is well-rated by experts and consumers, with very few reported issues. The issues commonly encountered can be handled with the help of guidelines issued in the user manual and hence the scope of less hassle.
The Yamaha EF2000iSv2 is a convenient choice in the portable generator market due to its easy mobility and portability features. Undoubtedly, the device has some major selling points and is worth a purchase due to its high reliability and ultra-silence. I hope Yamaha EF2000iSv2 Review can help you to understand your need.
So are you looking for a great-looking generator with significant features? Yamaha EF2000iSv2 is your answer!!